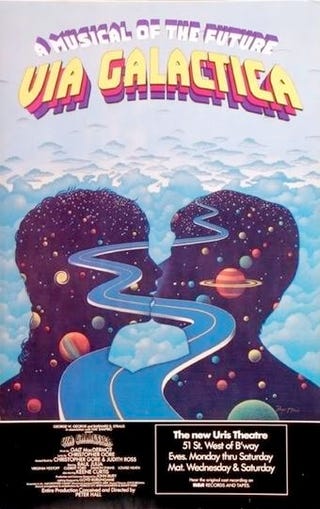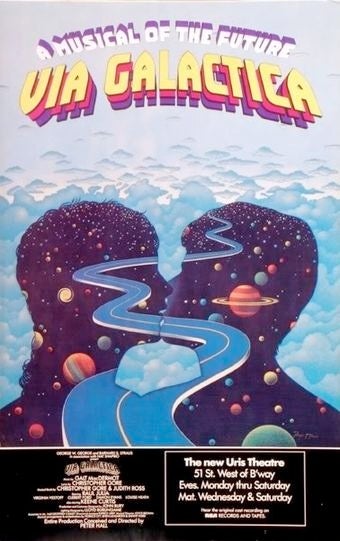 Decades before Spider-Man: Turn Off The Dark was just a twinkle in Julie Taymor's eye, Broadway had weathered a prior most expensive scifi musical ever: 1972's Via Galactica, a spacey extravaganza starring Raul Julia and a set made of trampolines.
In a retrospective at The New York Times, Jennifer George recalls how her parents poured their hearts and souls into the show, which ran for only seven performances at the Uris Theater:
It was going to be fantastic! Flying spaceships! Flying people! A stage made of interconnecting walkways and trampolines - with a backdrop of thousands of Ping-Pong balls strung together, floor to ceiling, upon which gorgeous images would be projected. The cast was multicolored - Raul Julia, the lead, was blue; Virginia Vestoff, his leading lady, was painted gold; and the other actors on stage were every color in between. Peter Hall, former head of the Royal Shakespeare Company, would make his American directorial debut. Galt McDermott, who composed the score for "Hair," wrote the music. My mother, a relative newcomer, wrote the book with Christopher Gore, who also wrote the lyrics. And as producer, my dad put all the pieces together.

But "Via Galactica" seemed plagued from the start. For a moment the show was to be called "Up," but when posted next to the Uris name on the marquee, it sent an unfortunate message. Once again, the title became "Via Galactica."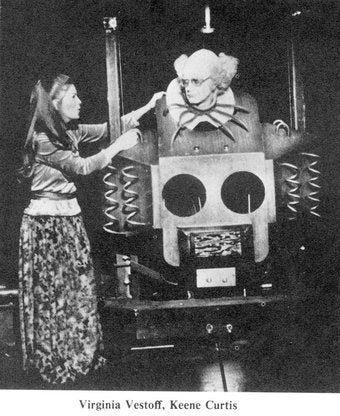 Via Galactica received bad reviews and went on to be one of the first musicals to lose $1 million. Given its short run, the musical has all but fallen off the planet, but you can see some photos from the production at this thread at Broadway World and listen to a jazz-funk version of the score here.
Thanks for the tip, Sam!