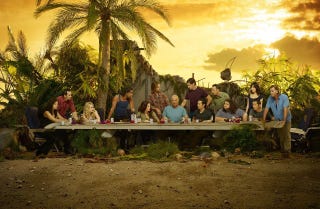 For every real piece of news, there's a hundred crazy rumors and unconfirmed reports. This year provided tons of vital hints at future entertainment...as well as a lot of wonderfully ridiculous rumors. Here's the coolest and wrongest spoilers of 2010.
THE COOLEST
Jeremy Renner will play Hawkeye. This rumor goes all the way back to November 2009, when Renner simultaneously dismissed the rumors he'd be playing Captain America and confirmed he and writer Zak Penn were discussing Hawkeye. However, it would be another eight long months of rumors and hearsay before Renner was finally officially announced as Hawkeye.
Spider-Man is being rebooted with a relatively unknown cast, a high school aged Peter Parker, a smaller budget, and the Lizard as the villain. When Sam Raimi's fourth Spider-Man film fell apart, a bunch of rumors began to swirl. The franchise would be immediately rebooted with a younger, cheaper cast. The new film would be slightly grittier and more realistic, with the Lizard emerging as the favored villain. And, most importantly, Sony wasn't going to spend nearly as much on this film as it had on Spider-Man 3. Flash forward to the end of 2010, and rising stars Andrew Garfield and Emma Stone are playing high school versions of Peter Parker and his first love Gwen Stacy opposite Rhys Ifans as the Lizard in an $80 million film directed by 500 Days of Summer's Marc Webb. Yeah, that sounds about right.
Darren Aronofsky is directing Wolverine 2. It was supposed to be a two-horse race between 30 Days of Night's David Slade and Red's Robert Schwentke for the honor of directing the second Wolverine spin-off movie. But then, out of nowhere, acclaimed directer Darren Aronofsky suddenly entered the discussions, with star Hugh Jackman supposedly lobbying hard for a return engagement with his The Fountain director. Whatever the behind-the-scenes story, Aronofosky did in fact end up taking on the Wolverine 2 gig, although he quickly announced the film would be called The Wolverine and would be a standalone film that didn't bother with the continuity of the previous movies.
Megan Fox is out of Transformers 3. Rumors of Megan Fox and Michael Bay's mutual dislike have been around for years, with some even suggesting Bay would kill off Fox Revenge of the Fallen
just because they didn't like each other. Early this year, the rumors again heated up that Fox had either quit or been fired from Transformers 3 - we don't honestly care which it is - and these reports were confirmed in relatively short order. The rumor mill was way less successful in guessing who would replace her: early reports favored Quantum of Solace actress Gemma Arterton, with Bar Rafaeli, Miranda Kerr and Brooklyn Decker also in the running. Those predicting Arterton made the fatal mistake of assuming Michael Bay was looking for an actress to play his female lead, as the role ultimately went to newcomer (and, quite coincidentally, Victoria's Secret model) Rosie Huntington-Whiteley.
Transformers 3 has something to do with the Moon landing. A rumor back in July said that executive producer Steven Spielberg had come up with a prologue set in the early 1960s in which President John F. Kennedy learns of strange signals on the dark side of the Moon, and then starts the space race with the real goal of discovering what's going on up there. Now, we still don't know if that particular scene is in there, but the movie's announced title Transformers: Dark of the Moon and recently released teaser trailer, which is all about the Apollo 11 astronauts discovering Transformers on the Moon, makes it pretty clear that the rumor was more or less correct.
Buffy the Vampire Slayer is getting rebooted...for some reason. When word first got out about a potential Buffy reboot, it seemed more like something people would cook up as a satire of pointless remakes. But we should have realized in a world where Ridley Scott is directing an adaption of Monopoly and the Battleship movie is costing upwards of $200 million, nothing is off-limits for a pointless remake. So yes, Warner Bros. is working on a reboot, Joss Whedon declined any involvement back in 2009, and first-time screenwriter Whit Anderson promises a "fresh take" on the character. Oh, and half the cast of Glee has been rumored for the title role.
Everything you ever wanted to know about last year's Doctor Who finale. We could honestly dedicate an entire "Greatest Spoilers" post to our resident Doctor Who spoiler machine bluehinter. Still, even considering a year's worth of almost always accurate spoiler news, bluehinter's best scoop has to be this detailed synopsis of "The Big Bang"...which went up four days before the episode aired. Although the Omega rumors didn't pan out - and judging from the production team's concepts, we doubt he'll show up in series six either - every last detail in the bullet points is a completely accurate description of "The Big Bang", including the restoration of Auton Rory, the Doctor's trips back down his own timeline, and how the Pandorica saved Amy's life.