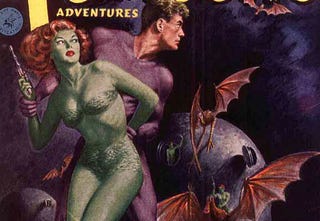 One piece of writing advice gets held up as more sacred than any other: Show, don't tell. But this maxim can ruin your story-telling, if you treat it like a law. Here are five situations where telling is actually better.
Like most rules of thumb, "Show don't tell" is excellent advice most of the time — but people often apply it too broadly, or in situations where it hurts more than it helps. You have to be aware of the spirit, as well as the letter, of this particular law. Writers have a tendency to lecture readers — and this goes double for science fiction and fantasy writers, who have a lot of worldbuildy stuff to get out of the way. It's definitely never a good idea to bludgeon your readers with information.
(And then as soon as you say something like that, people can bring up any one of a number of classics that do in fact bludgeon the reader with information, from Moby Dick to Infinite Jest. Again with the fact that no rule is ever absolute.)
But in a discussion like this one, it's easy to get bogged down in abstractions and axioms. So here are five concrete examples of situations where you really may be better off telling rather than showing — and when showing may make your readers groan with exasperation.
1) Your characters all know something your reader doesn't.
One of the most hideous examples of telling rather than showing is the "As you know, Bob" dialog, where one character tells another something they both know. But it's almost as hideous when an author painstakingly uses dialog and action to convey something the characters all know.
Say, for example, that your character Diana is a mutant, on an all-human crew. You can convey that fact by having your characters refer to it obliquely — but that's just a more subtle version of "As you know, Bob." You can have someone make a joke about it. You can introduce a character who doesn't know Diana's a mutant, so someone can tell him/her. You could introduce a plot device, like a bar that doesn't allow mutants, and then have Diana feel bad about not being able to get in.
Or you can just rip the bandaid off, and have the narrator/POV character drop in the information that Diana's a mutant. "Diana was a mutant, but so far the only mutant power she'd manifested was passive-aggressiveness."
It really depends how important this information is to your story — perversely, the less vital it is to the plot, the better it is just to come out with it. If your story's not about Diana being a mutant, then the less time you spend on it the better. Which brings us to...
2) There are too many mysteries.
Chances are, at the beginning of your story, there are important facts that your characters don't know.
(Unless the whole story is just your characters sitting around obsessing about information they've already learned before the story began. In which case all of your dialog should consist of wistful half-sentences: "If only we could..." said Mary. "But no," said John. "Alas, there is nothing to be done, because..." said Pierre. "Alas, yes. I guess I'll just..." said Mary.)
In many science fiction/fantasy stories, there's an element of mystery, as the characters figure out a new phenomenon, or unravel clues. The reader is going to be learning new facts alongside your characters — and if you've done your job right, these discoveries will be as important to your reader as they are to your character.
That's why it's important to ask yourself up front: What do you want to make a mystery in your story?
I read a lot of short stories — indeed, I've written some stories — where the opening of the story creates a mystery about just who these characters are, and what they're doing, and why they're so concerned about this mystery they're investigating. Sometimes it's more exciting to start with action, and let your reader figure out along the way what's going on, before getting plunged into the mystery. But sometimes, making your reader figure out what's going on with your characters is just one mystery too many, amongst a bunch of others.
Suppose Diana the mutant is part of a crew of mutants and elves, who are part of a mutant/elf alliance that's fighting a war against cyborgs. (All the regular humans are dead or whatever.) They're searching in deep space for a lost hyper-sloop that may contain the technology that will help them understand the cyborgs' new weapon. But instead of the hyper-sloop they're looking for, they find a giant floating head of Dorothy Parker, made of titanium. What does it mean? The elves and the mutants have very different opinions, and divisions among the crew along elf/mutant lines become ever more acute.
So. You have the mystery of the floating Dorothy Parker head in space, and what happened to the hyper-sloop that our heroes were searching for. Do you also want to make your readers pick up the fact that these people are mutants and elves, and they're fighting the cyborgs, etc. etc.? Sometimes a story that tries too hard to be mysterious about just what the heck is going on here can feel like it's making me, the reader, do too much heavy lifting for not enough reward. I've literally quit reading short stories after a page, because I couldn't get into the characters — I was too busy trying to figure out who the blazes these people were, from all the little clues, to care about whatever they cared about.
It's the difference between:
The giant head floated, its gaze serene as if it were basking in the certainty that no eyeglasses would keep men from making passes at it. "It must be a cyborg trap," said Lt. Diana Mintz, passive-aggressively. "They must have known we were coming here."

"Typical mutant thinking," said Lt. Commander Aelreth from her tactical station. "An elf would know better."
And:
The giant head floated. "Could that cigarette holder in its mouth be some kind of weapon?" Lt. Diana Mintz wondered. "Scans don't show any power source, but you never know." The blunt metal face seemed to taunt them, with its dark eyes. "It could have been here for aeons, just waiting for someone to give it a light."

"Passive scans only," said Lt. Commander Aelreth from her tactical station. "It could be dangerous." Weeks of skirmishes with the Cyborg Phalanx had left the crew of the Elf/Mutant Alliance cruiser twitchy.
Okay, so both those examples are horrendous and should be taken out and shot. I'm sorry. One of these days I'll learn to write example paragraphs that don't seem hideously clunky. But it won't be today. Anyway, the point stands — sometimes if you're dropping your readers in, "in media res," and you need to focus your reader's attention as fast as possible on the mysteries that actually are mysteries.
3) You have too much insane backstory.
Sticking with the elfs and mutants versus cyborgs thing — what if, in your universe, the elves were created via genetic engineering by a group of renegade scientists who realized the human race would soon be dead or whatever? And these scientists intended for the elves to fight the mutants and save humanity — but instead the elves wound up joining forces with the mutants. That's a lot of backstory, right there, even before the cyborgs show up.
So you can sprinkle in bits of this backstory here and there, like breadcrumbs. But then your readers may get confused about what order things happened in. Like, did the elves come first, or the mutants? Were the scientists who created the elves cyborgs? Or are the cyborgs totally separate? Was Dorothy Parker a scientist?
Also, sometimes a story that tries to work in bits of Byzantine backstory here and there can feel like a game of charades, or pictionary. Like we're trying to guess if the creator of the elves was a horse or the state of Alaska. How many vowels does it have? Is that a tree or a hat?
So sometimes it's better to just drop in a paragraph that lays it out, coherently, so people who get confused have something to refer to. A nice clean infodump sometimes can be more reader-friendly, and take up less time and space, than a treasure hunt. (Click here for our roundup of great info-dumps from SF novels.) If you can make an infodump entertaining enough, that is. Which brings us to...