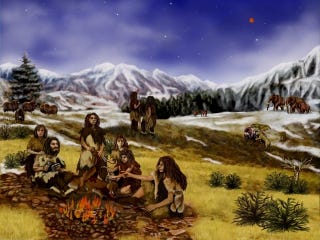 Eight recently discovered teeth are very similar to those of modern humans and date back 400,000 years... 200,000 years older than our species is supposed to be. To explain this mystery, we must retrace human evolution.
The Teeth in the Cave
The finding sparks a major mystery in the story of human evolution. All previous evidence - and there's an awful lot of previous evidence - had suggested the first anatomically modern humans emerged from archaic Homo sapiens about 200,000 years ago, and then only in Africa. So what are teeth that apparently belong to an anatomically modern human doing in an Israeli cave 400,000 years ago?
That's the mystery that paleontologists will now have to deal with. Tel Aviv University's Avi Gopher led the team that made the find. He explains just what they discovered in the cave:
"Our cave was used for a period of about 250,000 years — from about 400,000 years ago to about 200,000 years ago. The teeth are scattered through the layers of the cave, some in the deeper part, that is to say from 400,000 years and through all kinds of other layers that can be up to 200,000 years. The oldest are 400,000 years old. It is accepted at the moment that the earliest Homo sapiens that we know is in east Africa and is 200,000 years old — or a little less. We don't know of anywhere else where anyone claims to have an earlier Homo sapiens."
It's a dramatic discovery, and it's always good to be skeptical about something that seems to rewrite everything we know about a given field. (Just look at NASA's recent purported discovery of arsenic-based life.) But Gopher points out that they discovered the teeth back in 2006, and it's only after four years of testing and analysis, not to mention locating additional samples, that the team has published their findings. The researchers dated stalagmites, stalactites, and other material in the cave to arrive at the most accurate possible date for the teeth.