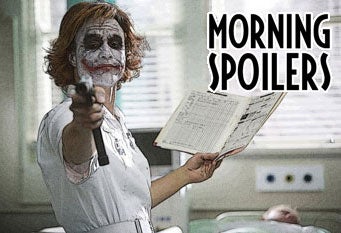 Matt Damon says he would love to head into the far future with Neil Blomkamp and Sharlto Copley in Elysium. Rumors of Indiana Jones' planned death were greatly exaggerated. Could a Glee actress be the new Buffy after all? Spoilerama!

X-Men: First Class
Kevin Bacon said we shouldn't expect to see too much complicated stunt work from his villainous character Sebastian Shaw:
"I'll let the younger actors do that," he laughs. "I'm more one of those sit-in-my-chair-and-destroy-the-world type of guys."
Jennifer Lawrence, who plays Mystique, confirmed filming is currently going on in Georgia's Jekyll Island, and that they're "doing all the battle sequences" at that location. [Philadelphia Style and Live 5 News via ComingSoon.net]
Indiana Jones 5
Harrison Ford's representatives have now completely denied yesterday's rumors that Ford wants Indy to get killed off. So rest easy, Indy fans - it looks like the character is safe...for now. [/Film]
Captain America
This new image for upcoming action figures gives us a good look at Captain America's costume in the movie - the Cap action figure is specifically based on his look in the film. Don't worry about the other action figures, though, as they're purely from the comics and have nothing to do with the movie. [ComicBookMovie]

Elysium
Matt Damon confirmed that he is being courted for a role in District 9 director Neil Blomkamp's far future science fiction film, and that he very much wants to be involved:
"I'm hopeful. I really, really, really want to do it and I want to work with Neill. I think he's a genius," Damon gushed. "I loved 'District 9.' It was one of my favorite films last year. I thought the performances were incredible. So I'm hoping that it happens. It's a great idea. It's 100 percent Neill, I'll put it that way. And that's about the highest kind of praise I can give it."
Buffy Reboot
Shortly after the project was announced, Glee actress Heather Morris, who plays Brittney Pierce on the show, was rumored to be up for the title role. Reboot screenwriter Whit Anderson immediately took to Twitter to dispel the idea:
"We're not even *thinking* about casting yet. The script isn't even written!"
But now Morris herself has weighed in, pretty much completely contradicting Anderson. Here's what Morris said:
"They're considering me! I found out and I almost peed in my pants cause I was so excited! If they make 'Buffy' when 'Glee' is on hiatus, I don't even care what I do. I can just run through the shot and do nothing – even if I'm not Buffy!"
It's possible that Morris is just responding to the rumors, and hasn't actually heard anything officially, although her reaction doesn't really sound like a response to mere internet chatter. Honestly, we're not sure what to think at this point, although it's safe to assume that Morris is maybe possibly a candidate. Perhaps. [Latino Review]
Your Highness
Here's a new photo for the upcoming hard-R fantasy comedy starring Danny McBride, James Franco, Natalie Portman, and Zooey Deschanel. In an accompanying interview, McBride acknowledged the movie's debts to 80s fantasy films like Krull, Dark Crystal, and Ladyhawke. He says this film isn't just meant as a parody - it's a sincere effort to make a film like those. He also admitted that he can't ride a horse, and so he cut out a lot of horseback riding that was in the original script. [USA Today]

Doctor Who
Steven Moffat reveals that the tone of this Christmas special is partially a reaction to last year's "The End of Time":
There had been a feeling that we needed a really, really Christmassy one, because the previous one had been David Tennant's exit from the role. It had been quite dark and not as Christmassy as normal. We had wanted to reset it and make it a hugely jolly, merry one. Well, jolly, merry and a little bit sad.
He also revealed that the show is currently shooting an episode with scenes set in a monastery out in the wilds - so wild, in fact, that Britain's recent heavy snowfall forced them to abandon their chosen location and find somewhere else. He advised viewers to treat the little teasers for future stories at the ends of his episodes as gags and not much more - for instance, they won't be following up on the Christmas special's revelations about the Doctor's marriage to Marilyn Monroe.
Finally, he considered the possibility of a crossover between his two huge iconic characters, Matt Smith's Doctor and Benedict Cumberbatch's Sherlock:
I think everyone who's passing me in the streets is suggesting that at the moment. I think there are problems of doing that, because then you would say that Sherlock Holmes lives in the same world as the Doctor, and there are Daleks and all sorts of things. If a Sherlock Holmes story depends on time travel being impossible, it's quite hard if he's a personal friend of the Doctor's, isn't it?
So don't get your hopes up...although I personally could see them making another Children in Need special out of the idea, even if it has to be set outside continuity. [NYTimes]
Chuck
Here's a promo for the second half of this season: [SpoilerTV]
And here's some set photos for episode 4.12, "Chuck vs. the Gobbler", showing Yvonne Strahovski in a catsuit: [SpoilerTV]

Alphas
Ira Steven Behr, a writer for both Star Trek: The Next Generation and Deep Space Nine as well as The 4400 and the TV version of Crash, has reportedly been named the showrunner of Syfy's newest show. For a lot more on Alphas, check out this post from yesterday. [Deadline]