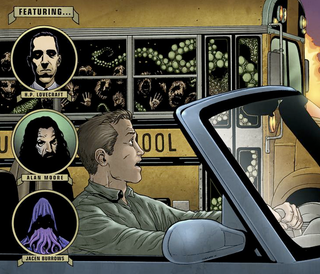 What screams holiday cheer more than Alan Moore penning Lovecraftian horror? Only a dozen shoggoths, writhing in a riptide of egg nog, intoxicated by their own tumescence. It's comic book Wednesday. Dig it.
First off, Geoff Johns bring us The Larfleeze Christmas Special (DC), a comic about the meaning of Christmas (and Christmas materialism) from the grotesque, avaricious alien who heads the Orange Lantern Corps. For the very antithesis of holiday cheer, check out the latest issue of Alan Moore's Neonomicon (Avatar). After last issue's stomach-churning NSFW capers, it feels like anything's fair game. And if you want to read about one of the few people who could actually hold his own against a Great Old One, the second issue of Grant Morrison's Batman Inc. (DC) is on the stands — Bruce Wayne continues his Japanese adventure, assisted by the crimefighter Mr. Unknown.
American Vampire (DC/Vertigo) and Chew (Image) both kick off new story arcs this week; the former follows vampire in 1936, the latter is about a mystery involving fried chicken. Matt Fraction & Kieron Gillen start off their tag team writing duties on Uncanny X-Men, and Mike Carey of The Unwritten fame turns his sights to Norse mythology in the miniseries Thor: Wolves Of The North (Marvel). Brian Michael Bendis kicks of the final chapter of his Ultimate Universe tripartite miniseries with Ultimate Doom (Marvel), and there's a new issue of Kill Shakespeare (IDW) — you can read our exclusive preview from yesterday here. And if wish fulfillment is your fancy, new issues of Mark Millar's Superior and Felicia Day's The Guild: Vork hit stands as well.