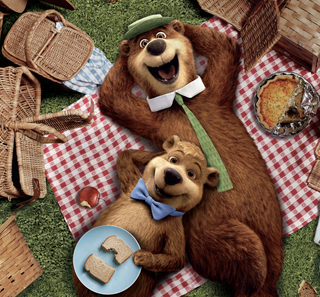 Yogi Bear is not a kids' movie. It is a bleak futurist parable about humanity's inability to accept a non-human sapience. It is also about a bear who wears a hat.
On the surface, everything about Yogi Bear (no "the" in the title) is steeped in failure. The CGI is serviceable, insofar as Yogi looks like a bear and not, say, a giant sloth. One also suspects that the studio secured Justin Timberlake's and Dan Aykroyd's vocal talents for Boo Boo and Yogi by trapping said actors in recording booths, filling the booths with helium and sulfur hexafluoride, and commanding them to deliver lines before they suffocated to death. Every other facet of the film seemingly stacks together like a crap ziggurat: the superfluous 3D, the criminal misuse of Anna Faris, Tom Cavanagh's portrayal of Ranger Smith as a perpetually just awoken sleepwalker, the fact that Warner Brothers has carpet-bombed your Hanna-Barbera nostalgia with fart gags.
But Yogi Bear is not a bad film; it is a deceptive one. Everything about the film (including its plot, which is about an evil mayor wanting to close Jellystone Park) is a cipher. Yogi's unabashed ineptitude underscores its thesis, which is about the implicit horror of that much maligned subgenre of speculative fiction: the talking animal film.
There are two common vintages of the talking animal film, and each of them contains their own inherent horrors. The first is the lingua obscura film — this movie showcases animals who do not communicate with humans but often understand their language, technology, and mores. Furthermore, the creatures in these films possess a secret language with which they converse behind the humans' backs. The implicit horror here lies in the possibility of fauna cabal. In truth, Marmaduke and Looking Who's Talking Now have more in common with The Birds than Old Yeller.
The second type of chatty critter flick is the lingua anthro film. In these movies, animals can talk to humans, but this interaction is unexpected or uncommon, and the animals tend not to receive the rights and privileges of Homo sapiens. Alvin and the Chipmunks and How I Saved The President are key examples. In this instance, the horror lies in a mishandling of this post-human consciousness explosion. If chipmunks, beagles, and platyhelminthes suddenly begin yammering at us about shamanistic folk remedies, humanity's entire philosophical, religious, and legal edifices will be blasted to smithereens. This is on par with a singularity-level event, and let's not even get into the inevitable resource war. Chipmunks breed and mature a lot faster than humans — they'll pump foot soldier after foot soldier out of their gestation hives until they have a monopoly on global acorn production.