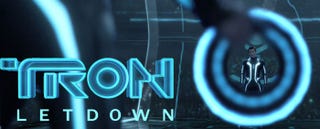 Back in 1982, Tron zapped us into a whole new world of storytelling. You can still feel the love, and excitement, on every frame of that movie. So it's sad that Tron Legacy turns those thrills into snoozes. Spoilers ahead.
Update: I saw Tron Legacy a second time last night, as part of the io9/Gizmodo meet up, and liked it a bit more. I still don't think it's a good movie, but I can understand why so many people are saying it has cool eye candy and a lame story. The critics screening was in non-Imax 3D, and seeing it a second time in 3D Imax, I could tell what was supposed to be happening a lot better. A lot of the action scenes still seemed a bit flat, but at least I could make sense of them. And the visuals which looked sterile and boring in non-Imax 3D did look a lot more impressive and beautiful in 3D Imax. So while I still don't think Tron Legacy was a good movie, I no longer think it's a total disaster. It's this year's The Matrix Reloaded.
Tron didn't just help to pioneer computer-generated special effects in movies — it did a lot of other things to transform the way in which we think about movies and technology generally. The original Tron has a striking look, and exciting visuals that were created frame by frame, layer by layer. It's an optimistic movie, a fantasy about a world in which computer programs worship us, the "users," and enjoy doing things to help us. There's almost no mumbo-jumbo in the original Tron, but there's still a clear message: Technology has a soul, and it's crafted in our image. And when technology gains sentience, it's going to want to play games.