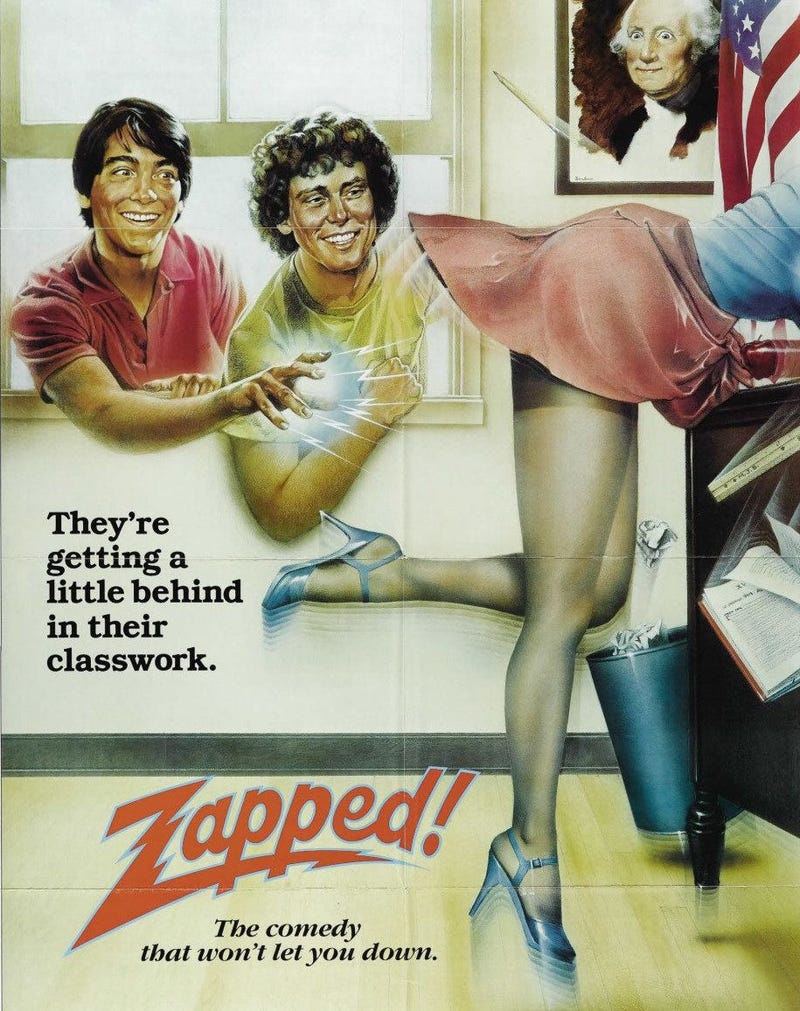 The 1980s wasn't just the golden age of Star Trek movies — it was also the heydey of teen comedies, from Porkys to Molly Ringwald. And what could be better than teenage hijinks with scientific craziness or bizarre supernatural powers?
Here are the 10 greatest paranormal teen comedies of the 1980s, in no particular order. Feel free to suggest your own favorites in comments!
Monster High
What's it about: Ummm... We've watched it and we're still not sure. Some aliens want to destroy the planet Earth, so they unleash a guy named Mr. Armageddon who comes out of a basketball. He terrorizes the teenagers at a local high school, then winds up challenging the high school's basketball team to a game — and if the team loses, the Earth is destroyed.
The Sexy Mayhem: There's a scene where a nerd is playing a video game where he has to control a penis that shoots sperm at Bibles, and then he gets decapitated and his head is replaced with a computer monitor. That's all I got.
Real Genius
What's it about: 15-year-old Mitch is sent to a technical university that's basically CalTech, where he's taken under the wing of goof-off party boy Chris Knight, and they inadvertantly help create a doomsday weapon, a space laser.
The Sexy Mayhem: In the end, Mitch and Chris use the space laser to blow up a ton of popcorn inside the house of a popcorn-hating professor, and then destroy the laser. Woo hoo!
Teen Wolf
What's it about: Michael J. Fox, god of 1980s weird comedies, discovers that he's actually a werewolf. So he does what any teenager would do — uses his wolf powers to win basketball games. (After all, basketball saved the planet from armageddon already.) He soon finds that Mr. Wolf is more popular than he ever was. Now being made into an MTV series, with basketball replaced by... lacrosse?
The Sexy Mayhem: Mostly just some amazing wolf dunks. But what else could you ask for?
My Science Project
What's it about: A young teenage couple go hunting in an airplane graveyard for something to use in their high school science project — only to discover a device that can warp space/time. Soon, neanderthals and 1960s hippies are busting out all over. See Tor.com's lengthy review of the film.
The Sexy Mayhem: None that I'm aware of. There is wackiness, involving Stormtrooper-helmeted bullies and mutant cannibals, among other things.
Dr. Alien
What's it about: A nerdy teenage boy gets injected with some kind of alien chemical by his sexy alien science teacher — and it turns him into a telepathic sex magnet with a tentacle growing out of his forehead that drives women wild. So he starts a band called the Sex Mutants and then saves the world from the aliens who transformed him.
The Sexy Mayhem: It's a movie about a boy with a forehead tentacle that drives women wild — the whole thing is pretty much sexy mayhem. Watch the trailer above, and watch an NSFW scene here.