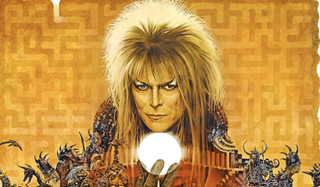 Science fiction and fantasy films of the 1980s were filled with a ton of memorable, iconic, and patently ridiculous music. Here are 30+ of the decade's finest (and most painful) movie tunes for your listening pleasure.
NOTE: I tried to focus on singles from films or songs that scored memorable scenes. There are a ton of great movie scores from the 1980s, so I concentrated on only a few. If I were to be completely selfish, this list would be every film soundtrack by John Carpenter and Tangerine Dream plus Basil Poledouris' score to Conan The Barbarian.

Queen — "Flash Gordon" (1980)
Let's kick things off with an old favorite. If you don't like this song, you're Ming the Merciless.

Goblin — The Contamination Soundtrack (1980)
Contamination (also known as Alien Contamination) was by no means the most memorable film, but Italian prog rockers Goblin (Dawn of the Dead) did a bang-up job with this soundtrack.

Don Felder — "Heavy Metal" (1981)
If you were stoned in 1981, there's a strong possibility you were listening to the soundtrack to Heavy Metal, which incidentally contained almost no heavy metal.

George Harrison — Dream Away from Time Bandits (1981)
The perfect mood music for time-traveling with a gang of rowdy dwarves.

Vangelis — The Whole Damn Blade Runner soundtrack (1982)
I know this stretches my "no instrumentals" rule, but I'd be remiss if I didn't tip my hat to the C-beams glittering in the dark near the Tannhäuser Gate.

Wendy Carlos — The Whole Damn Tron soundtrack (1982)
Electronic music pioneer Wendy Carlos' soundtracks to The Shining and Clockwork Orange are iconic, so it's easy to forget she also composed the bleep-bloop soundtrack to the original Grid.

David Bowie and Giorgio Moroder — "Cat People (Putting Out The Fire)" from Cat People (1982)
If you ever find yourself turning into a leopard, this is your theme song.

Tahnee Cain & Tryanglz — "Burnin' in the Third Degree" (1983)
I like how this jangling dance floor tune played in the wrong-side-of-tracks nightclub in Terminator.

The Rock and Rule soundtrack (1983)
Iggy Pop, Lou Reed, and Earth, Wind, and Fire in a bizarre Nelvana film about mouse people or something. Like Don Bluth's Heavy Metal.

Bauhaus — Bela Lugosi's Dead from The Hunger (1983)
This goth staple famously opened up the cult favorite vampire flick starring David Bowie, Susan Sarandon, and nudity.

Max Rebo Band — "Lapti Nek" (1983)
This was replaced with that godawful "Jedi Rocks" in the 1997 Return of the Jedi Special Edition. Forget Greedo shooting first, "Lapti Nek" was the greatest victim of those lamentable recuts. Fact: The Max Rebo Band plays a style of music known as "Jizz" and are classified as "Jizz-Wailers" (I am not making this up).

Philip Oakey and Giorgio Moroder — "Together in Electric Dreams" (1984)
This song is from Electric Dreams, a movie that taught us the important lesson that if you pour champagne on your computer, it will come to life.

Eurythmics — "Sexcrime (Nineteen Eighty-Four)" (1984)
Apparently the Eurythmics' soundtrack to 1984 was foisted upon the film against the director's wishes. C'mon everyone, there's a rager in Room 101!

Ray Parker Jr. — "Ghostbusters" (1984)
Huey Lewis has a bone to pick with this song.

Buckaroo Banzai — "Since I Don't Have You" (1984)
Peter Weller covering the Skyliners. Smooth.

Limahl — "The Never-Ending Story" (1984)
Writing this article took 10 hours because I watched this video for 9 of them.

Iggy Pop — "Repo Man" (1984)
Stooges frontman Iggy Pop delivers the theme to this cult classic about a punk Emilio Estevez getting mixed up in extraterrestrial imbroglios.

Mark Safan — "Win in the End" from Teen Wolf (1985)
Seeing this just bums me out about MTV's upcoming Hot Topic Teen Wolf remake.