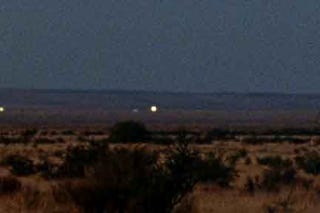 Mysterious lights are seen at sunset and during the night. They reappear again and again, in all kinds of weather conditions, causing no damage. What could they be? Have you seen them?
If you live around Joplin, St Louis, or Sarasota, you may have seen an interesting phenomenon. Spook lights are lights without obvious source that appear in the evening or at night. They are usually only seen from a distance, and endure a short time before disappearing. They're regularly seen all around the United States and Canada, and many sites have documented sightings of their lights that go back to the 1800s.
Complicating the explanations of spook lights is the wide variation in their behavior. Some are said to wave back and forth, the way ground crews wave in planes. Others are supposed to skitter over tree tops, without causing fires. Some split in two. Some just sit still and glow. There can be one at a time, or more than one. They're usually white, but can be different colors.
The most handy explanation for spook lights is the old physics favorite; ball lightning. The lightning itself is not entirely explained, although physicists did create something very similar to it by heating pieces of silica until they emitted a glowing vapor. Ball lightning, however, often leaves scorch marks, and sometimes burns things outright. Spook lights don't do that. And of course, ball lightning is very rare. Spook lights are downright common in some areas.