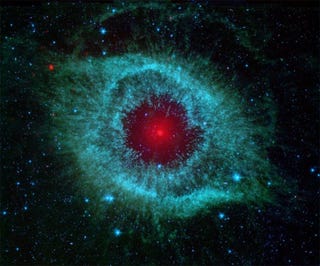 When a giant star dies, it can collapse into a black hole or implode into an ultra-dense neutron star. But there are even stranger possibilities. Here are some theorized stars that make black holes look downright boring.
Before we get to all the weird stars, we should probably review the stars we already know about. Ordinary stars are just gigantic bodies of luminous plasma, most made up of hydrogen but also containing varying amounts of other elements. The mass of stars can vary quite a bit, from tiny red dwarfs to blue super-giants to average-sized yellow spheres like our Sun, but the internal makeup is all more or less the same.
When these stars reach the end of their lives, one of two things can happen. A medium or low mass star goes through a brief period of expansion, and then it contracts back into a white dwarf, a pale husk of the old star that can exist for incalculable eons. But if the star is massive enough, it will explode in a massive supernova, then collapse in on itself to form a neutron star, which can then ultimately become a black hole.
Our Friend the Neutron Star
To understand the stars we're about to talk about, a word needs to be said about neutron stars. The name for these stars is more apt than people generally realize - these stars are composed mostly of neutrons, although other particles are involved as well. Our current models suggest there's an outer layer of regular atoms surrounded by free electrons, then further inside there are nuclei of protons and neutrons, which generally have far more neutrons in them than protons. Still further is a mix of free neutrons, nuclei, and free electrons, and then at the core of the neutron star...well, we don't actually know that bit yet.
The key thing is that neutron stars are what happens when the force of gravity is strong enough to cram a star's worth of matter into a sphere only about twenty miles across. At such absurd densities, the matter takes on a new degenerate form, which is the neutron matter that we see in neutron stars. And if the densities are even more intense than can be supported by neutron matter, the star completely collapses into itself to form the singularity of a black hole.
That's all simple enough, right? But what if there are other kinds of compact stars between neutron stars and black holes? After all, a compact star has to be at least 10 times the mass of the Sun (or 10 solar masses) to become a black hole, but neutron stars are only the definite fate for compact stars between 1.5 and 3 solar masses. What about all the compact stars with masses between 3 and 10 solar masses? Well now, here's where things get weird...or, to be more precise, things get strange.
Let's Get Strange: Quark Stars
The reason why neutron stars can withstand the tremendous gravitational forces that come with being so dense is a quantum property known as degeneracy pressure. Basically, this is where matter reaches such an incredibly high density that the only thing keep its component particles separate is that the laws of quantum mechanics forbid them from occupying the same quantum states. Since individual neutrons are much smaller than atoms, it's possible to cram them much closer together in a neutron star than would be with even the most tightly packed array of atoms.
Now what if you reached a point where the neutron stars could be pressed together no further? Then - and this only a theory - the neutrons might start breaking down into their own component parts, the quarks. Neutrons are composed of one up quark and two down quarks (if you need a refresher on quarks, check out our guide). Some of those down quarks might then turn into their heavier siblings, the strange quarks, and the resultant soup of quarks is known as strange matter after those particles.