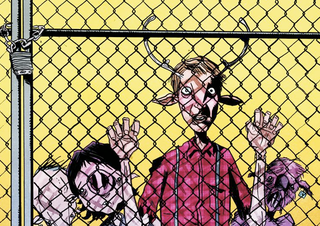 Jeff Lemire is the creator of the acclaimed Vertigo series Sweet Tooth, which follows Gus, a nine-year-old, half-deer boy growing up in a post-apocalyptic America ravaged by a mysterious plague. We spoke to Lemire about building this zoologically screwball world.
First off, what was the inspiration for Sweet Tooth?
It came from a lot of inspirations mashed together — I grew up reading a lot of post-apocalyptic stuff and loving it. Like Jack Kirby's Kamandi series, you can see that in the half-animal, half-human hybrids, the last boy on Earth, a lot of those themes comes through. I had also been working on The Nobody, another graphic novel for Vertigo, so I was reading a lot of H.G. Wells, The Island of Dr. Moreau, which is obviously a big influence as well. I think I always just wanted to try my hand at writing a big adventure story but treating it as a character piece.
A lot of your work — Sweet Tooth, The Nobody, even your current run on Superboy which takes place in Smallville — has a more bucolic or rural feel to it. What's the appeal of these natural settings for you?
In general, I feel so much of pop culture is set in the generic big city, particularly comics. I feel like there are so many other stories to tell. Why not take a science fiction comic and put the characters in a small towns to gain their particular perspective? A lot of that comes from me growing up in a small town on a farm, so that's what I know and what I'm comfortable with. My drawing style is also very sparse and minimalist, so a rural setting complements that.
How far do you have Sweet Tooth planned at this point?
At this point, I have the whole series fleshed out. I wrote the last issue a long time ago, and it's just a matter of getting to that point. I think the series is looking to be 40 issues long. I tend to write my beginnings and endings first — as a cartoonist and storyteller, I couldn't sit down everyday if I didn't know where the story was headed.
In Sweet Tooth, the children growing up after the plague are born half-mammal hybrids. Will we see the rise of another half-animal forms?
At this point it's all mammals, but in issue 14, we do see one reptile child to heighten the mystery. I don't want to give too much away, but yeah, we might see other forms coming.
What character in Sweet Tooth would you say you're most like?
I think both Gus and [the drifter] Jepperd. I kind of hold on to some of my imagination that I had when I was a kid, but there's also that old, jaded side which is typical of Jepperd.
Yeah, I read that you modeled Jepperd somewhat on Garth Ennis and Richard Corben's Punisher: The End. An absolutely brutal series.