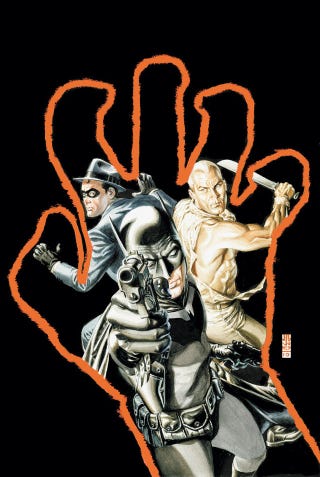 There's a lot of interesting reads in your comic shop this week, such as reprints of classic Planetary crossovers, the return of Odin in Matt Fraction's Thor, the 100th issue of Fables, and much more!
For those of you who like your weirdness with a dash of style, there's the first issue of Joe Benitez's steampunky Lady Mechanika (Aspen) and a new Torchwood adventure about Gwen squaring off against an alien drug lord. Unexplored Worlds: The Steve Ditko Archives Vol. 2 (Fantagraphics) examines a ton of the legendary creator's pre-Marvel work from the 1950s, and Brian Azzarello mines similar old-school inclinations in the fifth issue of First Wave (DC, check out that killer J.G. Jones cover). The new series 27 Club (Image) examines the mysterious cosmic propensity for rock stars to die when they hit 27, and Warren Ellis' paranormal archaeologists meet the Justice League and the Authority in the reprint anthology Planetary: Lost Worlds (DC/Wildstorm).
For more sword-and-sorcery fare, James Stokoe releases the first collected edition of Orc Stain (Image) and Matt Fraction brings back in Odin in the latest issue of Thor. Of course, there's the 100-page 100th issue of Fable (be sure to check out our recent interview with series author Bill WIllingham). For those Thor fans you just can't get enough, the first collected edition of Thor: The Mighty Avenger (Marvel) brings the breezy Silver Age charm. A new issue of Terry Moore's Echo is also out as well.