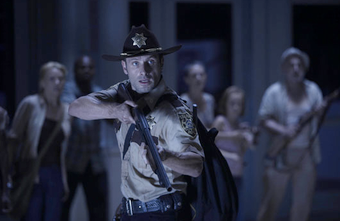 On the season finale of The Walking Dead — "TS-19" — the survivors become acclimated to their new home, but something's not entirely right in this would-be paradise. Spoiler a-go-go!
PRO: The episode opens with a flashback of Shane trying to extricate a comatose Rick from the hospital. It's a total shitshow — the military is executing patients, walkers are eating the military, and Shane is desperately trying to slap his coma victim pal awake. Shane finally gives up when Rick's monitors break, and he can't hear a heartbeat. We see that he really damn did try to get his friend out, and that he wasn't lying to Lori about Rick's "death." It's good to see they're not making him a stock character here.
PRO: Shane's jury-rigged plan for keeping quasi-dead Rick safe? A bed in front of a door. Hey, it worked.
CON: Jenner (Noah Emmerich) allows the survivors in, with the caveats that A.) they submit to a blood test and B.) the doors stay shut. The survivors discover that Jenner is the last survivor of CDC's "Zone 5," and he treats them all to food, a copious amount of booze, and hot showers. This is fine, but it turns into a CON because of the super-cheesy Vidal Sassoon montage.



PRO: Shane takes a "disco shower."
PRO: Rick finally drops his hero routine in front of Jenner, who gives him this creepy moonfaced look. Something's not entirely right with this guy.
CON: Shane squander all the goodwill he had as a character. In light of what we saw at the beginning of the episode, Lori's prior dismissals of him seem overly harsh, but then he gets all Stanley Kowalski and drunkenly attempts to rape Lori. She scratches Shane, and he plods away, looking somewhat ashamed.
CON: Almost all of the cast is hungover. They are good apocalypse survivors but terrible house guests.
PRO: Jenner gives them a National Geographic-style tour of Test Subject 19's zombie brain. We learn a couple facts, namely that the zombie infection spreads to the brain like meningitis, resurrection can take anywhere from 3 minutes to 8 hours, and that the infection affects the brainstem. Jenner's unsure of the infection's origins — "it could be viral, microbial, parasitic, fungal." He later mentions that he's been in the dark for a month, and that the French were close to developing a cure for the outbreak before running out of power.
CON: Jenner also failed to mention that facility-wide explosive decontamination will occur when the generators run out...in 60 minutes. After investigating the sapped generators, Jenner strolls into the main computer chamber and seals the blast doors. He's signed everyone up for his suicide pact without consent. Thanks, Jenner!