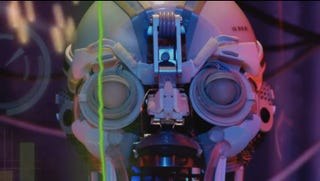 How many times do you have to murder the android version of your ex before calling it quits? Hopefully, dark comedy Android Re-Enactment will have the answer. Plus, Mega Shark Vs. Steve Urkel, and a scene from Ice Quake.
Android Re-Enactment
We're not 100% sure what's going on in this little indie, but we're certainly interested in the dark turn the trailer takes about halfway in. Does that curly-haired robot stab himself in the head? We can't find much else about this project other than it's being directed by Darryl Shaw and the official synopsis, but we're still very interested in the dark tone and array of ray guns.
Official Synopsis:
Ermus, an obsessed scientist, tampers with the unstable emotions of android replicas of the people surrounding the greatest heart break of his life. Soon the lines between reality and fantasy are blurred, and Ermus is forced to confront a surreal nightmare.
[Android Re-Enactment Facebook Page via Twitch Film]
Ice Quake
Here is a sneak at the next Syfy TV movie called Ice Quake. Let's just say this movie takes the frost chase scene from The Day After Tomorrow and cranks it up to 11 (minus the wolves). You do not want to miss this moment, because it's frost burned into my brain forever. Syfy TV movie action at its highest, seriously we've DVR-ed it.