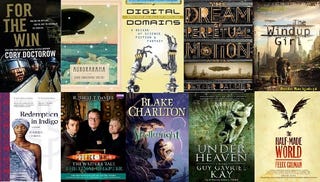 Give someone a whole new world for the holidays this year! Here are 10 recent science fiction books that'll make terrific gifts — each with a wildly different take on the genre, so there's something for everyone.
Redemption in Indigo, by Karen Lord (Small Beer Press)
In this retelling of a Senegalese folktale, an abusive husband hires a tracker to find his wife, Paama, who had fled two years prior. The actions of the tracker, Kwame, draw the attention of the Indigo Lord, who lost his powers of chaos to the same Paama. This is a book that only came out in English this year, and was eagerly anticipated. Although it takes place in a unnamed place, it blends the feeling of mythology with an every day world in a compelling way.
For: The fairy tale enthusiast who lurks beneath the surface of most grown-ups.

Aurorarama, by Jean-Christophe Valtat (Melville House)
The description of this book had me at "1908: New Venice- 'the pearl of the Arctic.'" It's not an easy read, since the story is told with an alternating point of view between the main characters, Brentford Orsini and Gabriel d'Allier. Nevertheless, Aurorarama tells a tale of political intrigue (secret police! Eskimos! Prisoner-esque hovering airship!) with some truly lyrical prose.
For: Alternate history fans and lovers of interweaving narratives

For the Win, by Cory Doctorow (Tor)
From Booklist:
Set in the near future and in locations across the globe (though primarily China and India), the story involves a sweeping cast of characters making a living-if you want to call brutal conditions and pitiful wages a "living"-in such virtual-game worlds as Svartalfheim Warriors and Zombie Mecha. Many of them, like 15-year-old Mala (known by her troops as "General Robotwalla"), endure physical threats from their bosses to farm virtual gold, which is then sold to rich First World gamers. Then these brilliant teens are brought together by the mysterious Big Sister Nor, who has a plan to unionize and bring these virtual worlds-and real-world sweatshops, too-to a screeching halt. Once again Doctorow has taken denigrated youth behavior (this time, gaming) and recast it into something heroic. He can't resist the occasional lecture-sometimes breaking away from the plot to do so-but thankfully his lessons are riveting. With it's eye-opening humanity and revolutionary zeal, this ambitious epic is well worth the considerable
challenge.
It doesn't really take much to recommend a book by Doctorow, but this particular premise is especially engaging for those of us who have spent countless hours playing online games. It takes those games and takes those virtual lives to the logical extreme. It's just a fascinating concept.
For: Gamers

The Wind-Up Girl, by Paolo Bacigalupi (Night Shade Books)
This is tale of the future, where Bangkok struggles to survive both rising sea levels and out of control mutations. There's Jaidee, who works for the Environment Ministry, Anderson, who looks for profit-makers for a western agribusiness, and Hock Seng, a refugee from China. Every one of them is trying to live in this world, until their actions, and those of Emiko, a product of genetic engineering and the titular "wind-up," accidentally starts a civil war.
There are so many different consequences at play in the future world of this book. There's global warming in the form of the sea levels, genetic engineering in Emiko, and tensions between the developed and developing world in the form of Anderson's job. That all makes this world seem like a possibility, which only enhances the power of the story. (Our full review of The Wind-Up Girl is here.)