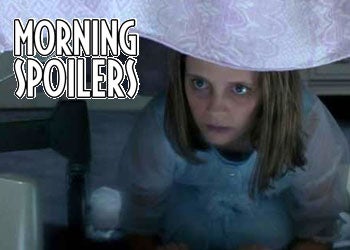 Hear from the stars and crew of Tron Legacy. The executive producers of Fringe and The Walking Dead explain why there really is nothing to worry about, whatever you might have heard. New trailer for I Am Number Four. Spoilerage!

Tron Legacy
Here's some interviews with stars Jeff Bridges and Olivia Wilde, as well as some of the technical crew: [Tech Crunch]




I Am Number Four
A new trailer is out for the young adult science fiction movie about an alien hiding among us. There's also a poster: [Wired] Click to view



Iron Sky
Ready or not, the Finnish project about Nazis hiding on the Moon and invading Earth in 2018 that grew from fan-financed trailers to actual full-blown movie, has officially entered production. Here's a photo to get you ready for what is either the most awesome or most spectacularly ill-conceived film in history - I doubt there's much middle ground. [Wired]

Mars Needs Moms
Here's the trailer for the upcoming Disney animated movie: [Film School Rejects]
Now
Justin Timberlake's immortality thriller has a release date: September 30, 2011. Which, incidentally, is only two weeks after the intensely necessary sequel Piranha 3DD, so plan your September 2011 accordingly. [Comingsoon.net]
The Vampire Chronicles
Author Anne Rice is still hoping for a new movie adaptation of her Lestat stories to come together, and she's hopeful it eventually will:
"I hope there will be, but I don't have anything firm to report. A lot of interest, a lot of talk. The rights are all mine; they don't belong to a studio anymore, they belong to me. It's been a long struggle, but we have a lot of interest and there's a lot of talks going on, so we'll see. I'm hoping. I'm hoping that I will have something to announce soon."
[Vulture]
Doctor Who
The BBC has released a ton of new info on "A Christmas Carol." Here's the full synopsis:
It's the deepest part of winter, the exact midpoint, Christmas Eve – halfway out of the dark. Amy and Rory are trapped on a stricken space liner that's plummeting through banks of thick icy fog to the surface of the planet below. Only one man has the power to save them; only one man is in possession of a machine that can clear the fog and let them land safely. That man is Kazran Sardick, a rich but lonely old miser who rules Sardicktown with a sky-mast of iron. The Doctor's only chance of rescuing the ship's four thousand passengers is to save Kazran's soul and show him that life is worth living. For this he needs to go back, way back, to when Kazran was a boy with a life full of promise. But can the Doctor put a song in Kazran's heart and love in his life, in time for Christmas? Can he bring him out of the dark?
Matt Smith explained why he's excited:
I've always wanted to be part of the Christmas Doctor Who experience, and I think this is certainly one of the most Christmassy and inventive Doctor Who stories so far. Steven just keeps getting even more imaginative and the great thing about this episode is that when Doctor Who and Christmas are put together you combine the spirit of both those things; it's a fun old yarn and the Doctor simply loves Christmas.
There's more at the link, including rather unsurprising confirmation from costar Katherine Jenkins, who is a professional singer and first-time actress, that she will be singing in the special. [BBC Press Office]
Marshall Lancaster, who is best known as Chris Skelton on Life on Mars and Ashes to Ashes, will reportedly play the character Buzzer in episodes 5 and 6, which are being written by Life on Mars and Ashes to Ashes creator Matthew Graham. You know, between these two, John Simm as the Master, and all the other LOM creative people coming over to Doctor Who, my dream of a Philip Glenister appearance is coming dangerously close to coming true. I'm sorry, but my life just won't be complete until Gene Hunt barges his way into the TARDIS. [Doctor Who News Page]
Meanwhile, this story apparently got a bit garbled, but director Peter Hoar was originally listed as directing an hour-long Easter special to air in 2011 - which seems very weird, considering that's just about when the show is starting up. Shortly thereafter, the listing was updated to say he's directing a single episode for the 2011 series, so he's likely helming one of the episodes in the second half of the series. [Doctor Who News Page]
The Walking Dead
Executive producer and comics creator Robert Kirkman commented on the somewhat bizarre reports about the entire writing staff being fired. He said the story was basically false, it reflected unfairly on showrunner Frank Darabont, and that the only departure was that of Charles 'Chic' Eglee. Kirkman explained why this happened: