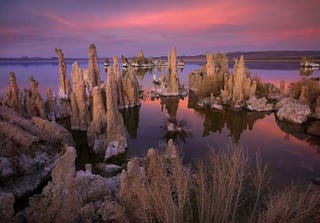 NASA scientists have just announced the discovery of life fundamentally different from anything else we've ever seen before. Here's what this discovery means for our understanding of biology, the search for extraterrestrial life, and even how this could revolutionize bioenergy.
What is the discovery?
The discovery, made by NASA scientist Felisa Wolfe Simon and her team, is straightforward enough. We often think of carbon as the crucial element for life, but actually there are six elements that work together as the basis of every last organism we've ever found. These are carbon, oxygen, hydrogen, nitrogen, sulfur, and phosphorus. Phosphorus is part of the structural framework of DNA and RNA, essentially acting as the molecular girders that hold everything else in place.That makes phosphorus essential to the stability of DNA and, in turn, the existence of life.
Wolfe Simon investigated whether a different element could be substituted in the place of phosphorus. The obvious place to start is with arsenic, which is directly below phosphorus on the periodic table and thus shares many of the same properties. Her team headed to California's Mono Lake near Yosemite National Park. Mono Lake is an incredibly unusual ecosystem, with three times the amount of salt as seawater and, crucially, it's poor in phosphorus and rich in arsenic. Despite this, life thrives in Mono Lake, and so the team collected some microbe-rich mud and took it back to the lab.
There, they placed mud in a setting where the microbes would have everything they needed to live, such as sugar and vitamins. Crucially, however, they created a phosphorus-free environment and pumped the test area full of arsenic. Nothing should have survived in those conditions - indeed, arsenic is notoriously toxic. But the microbes didn't just survive, they actually thrived in the seemingly impossible conditions.
The scientists then studied the microbes, and they discovered arsenic was found on a band of the genomic DNA. They isolated this section and found that arsenic wasn't just stuck on top of the DNA - it had actually replaced the role of phosphorus. Arsenic had substituted for phosphorus as the backbone of the microbe's DNA, fulfilling one of life's most critical functions.
It's difficult to overstate the importance of this discovery - these microbes are doing something fundamentally different from all other life on Earth. Wolfe Simon puts this discovery in context, explaining what it means for life on Earth...and beyond:
"We've cracked open the door for what's possible for life in the universe. And that's profound. What else might we find? What else might we want to look for?"
What does this mean for the search for extraterrestrial life?
Heading into this announcement, there was a lot of excitement and speculation about the possible discovery of extraterrestrial life. I even asked, "Is NASA about to announce the discovery of extraterrestrial life?" I had consciously avoided using the term "alien", but I probably should have used that all along. This arsenic-based life (for lack of a better term) is just as terrestrial as you or me, but it's very alien in terms of how it's put together. NASA has, in a very real sense, discovered a form of alien life.