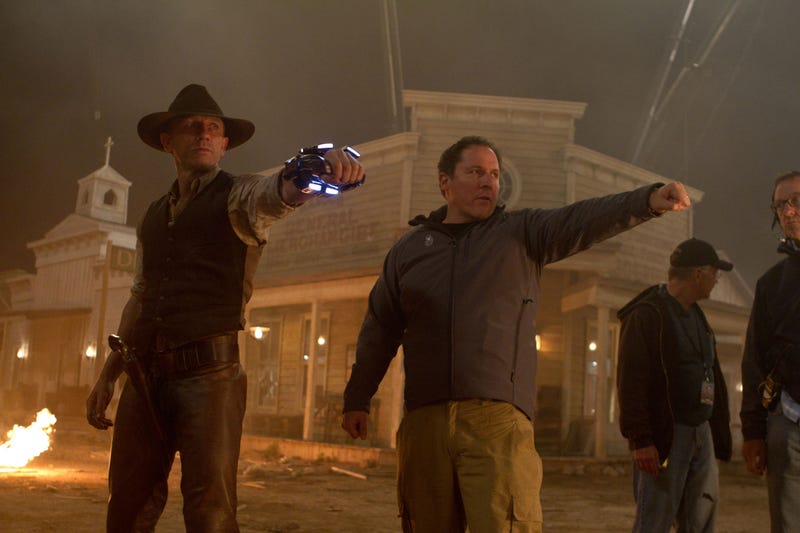 Earlier this year, we spent one hot summer day at New Mexico's infamous Plaza Blanca landscape watching Jon Favreau, Harrison Ford, and Daniel Craig make their alien abduction Western mash-up. Here's what we learned. Plus two new behind-the-scenes images!
While we can't tell you much (yet) of what we physically saw, puttering around under the desert sky of New Mexico, we have gleaned the most fantastic pieces of news that came out of the dustbowl where the cowboys made their last stand against a pack of space invaders.
Harrison Ford Shoots First In This Alien Film
We all knew Harrison Ford was in Cowboys & Aliens, and would be on set. But a collective thud of journalist jaws could be heard hitting the dust as Ford strolled out donning boots and a vest with a gun at his side (classic Han Solo wear). So naturally we couldn't help attack C&A producer Bob Orci with possibly the most important question ever to be asked of this movie. Will Harrison Ford shoot first in this film? Orci smiled and confirmed that there is a "shoots first moment." Then laughed and remarked, "We're gonna fix that." So "Han Shot First" fans, this moment is for you.
The big bad in Cowboys & Aliens is more biological xenomorph monster, less robot... but mainly CG
Sterile alien fans, we're sorry, the extraterrestrials in Cowboys & Aliens' are much more terrifying monster a la Starship Troopers, and a lot less Gort. Favreau confirmed that the beasts are in fact biological, and "more in the tradition of like Alien and Predator. [Which] allows you [to] create the biology of the alien that feels the most horrifying and feel it [out] slowly over the course of the film, as opposed to just form these columns of aliens marching..." But be sure, these bastards are not friendly, both Orci and Favreau wanted to make that very clear.
Don't expect Kang and Kodos to pop up and answer all your alien questions.
Favreau continued talking about the "alien invaders in the old West" plot line. With out giving too much away, he explained that the aliens' plot will have an internal logic to it, and things will be inferred, much like in Aliens. Although Favreau specifically stated not to be looking for an explanation from the monsters themselves. "We have an internal logic to it. But definitely...it's not like you're going to be cutting to the bridge of the alien ship like in the "Treehouse of Horror" [Laughs]. It's more like – you can infer certain things. Again, to me once of the best examples is Alien. There was a logic to it, but the way it unfolded, you didn't really know it. And there was enough logic to it that you could accept it. But all I knew when I watched it is, Oh, my God, what's that? There's eggs, it's on his face, it's coming out of his stomach, and they're all over the place, you can't kill them; they have acid blood. Those were things that were pulled together, saying what they were colonizing... "And although we have quite a bit of CG – I like the way they told stories before – before you could show everything with CG. And it was a real unveiling of the creature, little by little, and using lighting and camera work and music to make it a very subjective experience. And so we tried to preserve that here."
They know you think the title is silly, and that's a good thing.
When asked about the obvious nature of the title and some of the public's comical reaction to it, Orci was fine with it — in fact, he almost welcomed the general snickering at the mention of Cowboys & Aliens even though the movie isn't a comedy. "We tend to treat these things like a campaign," Orci explained. "And you don't want to be the front runner up front. So having a title that people snicker at is actually not a terrible thing, because when they find out what it really is, it actually compels them to discuss it and to say, 'It's not what you think.' As opposed to – you don't want to be Hillary Clinton a year out, you know. You want to be Obama a year out... We've been through this before. We've been through it with Transformers, where they thought it was – whatever you think of the movie – is it a cartoon, is it the Power Rangers? And then you see a trailer for it and you realize it's got a different scale and a different theme to it. It's the same thing with this. I think Iron Man went through a similar thing. 'Oh, it's a B grade, superhero.' Then when you see it, so – we like coming from behind, and having the title change in your perception."
Steven Spielberg schooled Favreau and Orci on Westerns and scifi before production.
So many times you hear a big name attached to a project as a producer, but you never get a sense that they were involved. Not the case for Steven Spielberg's involvement on C&A. In fact when he wasn't comparing his past alien techniques on ET and helping the crew find a new an innovative way to create new aliens, he was screening classic Westerns for Orci and Favreau, as Orci told us at SDCC. "[Spielberg] even did commentary in the theater with us," Orci revealed. "He got a new print of The Searchers, and he took me and Jon and Alex [Kurtzman] and Damon to the Warner Brothers Theater. And he sat behind us and he's like, 'Okay.'...