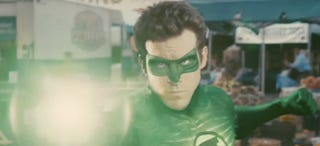 Take a look at the alleged space parasite and "living embodiment of fear" rumored to be Hal Jordan's big nemesis in the first Green Lantern movie. Spoilery pictures and speculation ahead.
The Daily Blam has a great image of the live-action version of the alien parasite rumored to be Hal's big extraterrestrial problem. Here's a look:
Supposedly, this image is from the next Green Lantern comic, which makes sense as the last Green Lantern comic released a picture of evil genius Hector Hammond (played by Peter Sarsgaard). But we won't know if this image is legit until December when the next GL issue will be released. Right now, this is all speculation. Awesome alien soul eating speculation, but totally unverified.
Many, many months ago, when we reviewed Green Lantern's script, the main villain was Legion. But back in August a new rumor surfaced claiming that the movie's main villain was actually Parallax, a giant space parasite that feeds on fear (or in this new rewrite, souls).