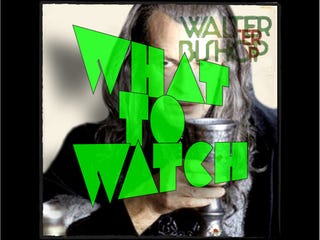 How can you get through television's Thanksgiving lull? We're here to help. There are half-kaiju, half-teenager rebels, walking dinosaur skeletons, a team of superhero sidekicks, and Jewel Staite romancing Flash Gordon. Plus Chuck, Walking Dead and Sanctuary. It'll be okay.
Note: We've decided to stop listing movies on TV, unless they're appearing for the first time ever.
Today:
There is a new Johnny Test at 7:30 PM on the Cartoon Network, "Johnny Lock Down."
There's a new Chuck tonight at 8 PM on NBC, "Chuck Vs. Phase Three." The Belgian comes closer to the truth about the Intersect, so Team Bartowski must slip deep into the jungles of Southeast Asia to thwart him, while Sarah goes on a rogue mission. Meanwhile, Ellie gets closer to a family secret, with the help of Awesome.

And at 8 PM, there's also a new episode of the frequently pseudo-scientific House, on Fox.
Also at 8 PM, there's Adventure Time on Cartoon Network ("Power Animal"), followed by a new Regular Show at 8:15 ("Mordecai and the Rigbys"), a new Mad at 8:30 PM, a new Robotomy at 8:45, and a new Total Drama World Tour at 9:00 PM.
And then there's another outing of The Event at 9 PM on NBC, "Your World to Take": The Preisdent reacts to finding out who betrayed him, while Sophia discovers there's some dissent among her people about her leadership, now that she's revealed her plan for the sleepers. Sean and Leila try to solve the mystery of Samantha's kidnapping while avoiding Dempsey.
Tuesday:
At 8 PM in most markets, PBS has a new Nova, "Quest for Solomon's Mines."
Also, there's a new No Ordinary Family on ABC at 8 PM, "No Ordinary Accident." Jim loses his powers, which forces him to take a break from fighting crime. J.J. gets in trouble for hacking into his school's computer system. And Daphne thinks her telepathy will help her win over a boy.

At 9 PM, there's a new Tower Prep on the Cartoon Network, "Book Report":
After initially blowing off an assigned book report for his literature class, Ian realizes last minute that it's due. In his rush to finish the book, he discovers the story within the book seems to parallel with the elements, people and places of Tower Prep. As Ian and friends follow the clues in the book, they unravel a series of puzzles that seem to be leading them on a great quest either to answers or straight into the heart of danger.
Here are some clips:

And there's also a new Stargate Universe on Syfy at 9 PM, "Visitation."

Also at 9 PM: Meteorite Men on the Science Channel, "Utah Fireball."
Wednesday:
The Cartoon Network is premiering its first ever all-CGI animated movie, Firebreather, at 7 PM. And it sounds kaiju-tastic:
Firebreather delivers fierce action in the clash of two worlds where monsters roam the Earth and past secrets are exposed. At the center of it all, a teenage boy named Duncan struggles to find his place as half-Kaiju and half-human. It's not easy being a teen like Duncan. His mom wants him to pay more attention to his homework, while his dad - a 120-foot, fire-breathing Kaiju from the depths of the earth - wants him to follow in his monstrous footsteps. Duncan faces trials by fire from two worlds - in one, overcoming his father's challenges to prepare for the Kaiju throne; in the other, coping with life in a new high school. Ultimately, Firebreather is a story of a boy choosing between two different paths put before him by his parents. Through it all, only Duncan can determine his own future.
Also at 8 PM, there's a new MythBusters: Buster's Cut on Discovery, followed by a new MythBusters at 9 PM, "Inverted Underwater Car." Which is a pretty great title, you have to admit.
And at 8:30 PM, there's the Kung-Fu Panda Holiday Special, which vaguely counts as fantasy, I guess. Here's what it's all about:
KUNG FU PANDA HOLIDAY SPECIAL - FEATURING THE VOICES OF JACK BLACK, ANGELINA JOLIE, DUSTIN HOFFMAN, JACKIE CHAN, SETH ROGEN, LUCY LIU AND DAVID CROSS - The "Kung Fu Panda Holiday Special" celebrates Winter Feast, Po's (voiced by Jack Black) favorite holiday. Every year, Po and his father hang decorations, cook together and serve noodle soup to the villagers. But this year Shifu (voiced by Dustin Hoffman) informs Po that as Dragon Warrior, it is his duty to host the formal Winter Feast at the Jade Palace. Po is caught between his obligations as the Dragon Warrior and his family traditions. Also featuring the voices of Jack McBrayer, James Hong and Dan Fogler.
But there's no new Avengers: Earth's Mightiest Heroes, and no new Psych.
Thursday:
Thanks to Thanksgiving, it's a bit of a wasteland tonight. None of your favorite shows are on — no Vampire Diaries, no The Big Bang Theory, no Fringe. It's a dead evening of deadness.
In lieu of Fringe, Fox is showing The Simpsons Movie, in which the government puts a giant dome over Springfield. It's well worth checking out if you haven't seen it, and if you have, it might be time to rediscover it.
And thank goodness for the Mythbusters Marathon, airing all day on the Discovery Channel, from 9 AM to 8 PM — which is followed at 8 PM by this year's 25th anniversary Punkin Chunkin, hosted by Mythbusters' Adam Savage and Jamie Hyeman, in which teams compete to see who can launch a pumpkin the furthest. Hey, this is what you've got to work with. Sorry.
And at 9 PM, DirecTV is showing No Heroics, the amazingly naughty and hilarious British superhero comedy, which we previewed back when it aired in the U.K. There was talk, at one point, of making an American version of this show, but instead you'll just have to appreciate the wonders of the British version: