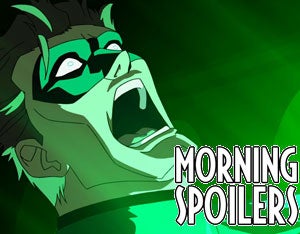 We've got the most reasonable speculation yet on which villain Tom Hardy might play in The Dark Knight Rises. Denis Leary could join the Spider-Man reboot, but Robert Downey Jr. is defying Gravity. Plus Avengers, Green Lantern and Doctor Who!

The Dark Knight Rises
An inside source is claiming they know who Tom Hardy is playing: the villainous Dr. Hugo Strange. As casting rumors go, this one is decently believable - Strange is certainly one of the more Nolan-ready Batman villains - but it's still just one of about a dozen casting rumors we're likely to see before we know anything for certain. So, grains of salt at the ready, I'd say. [Batman-News]
Spider-Man:
Denis Leary is reportedly in talks to play Captain George Stacy, the father of Gwen Stacy — who gets killed in a battle with supervillains in the comics. So don't get too attached to this character, if they're following the comics storyline. [Hollywood Reporter]
The Avengers
Marc Ruffalo explains that he sees Bruce Banner slowly getting more control over his Hulk persona, in part following on from the end to Ed Norton's The Incredible Hulk:
We ended the last Hulk with him smiling and you feel like he's getting control of it. And I don't know how deep we're gonna get into that, but my general feeling is for Bruce Banner/the Hulk, and what I hope we talk about, is that Bruce Banner is slowly but surely — it's like riding a wild mustang. At some point, you do start to get it a little bit under control. And like I said, I don't know what the final script's gonna be, but we've talked a lot about him at some point being able to penetrate his consciousness with the consciousness of the goliath.
He also explained his preparation for the role, which should warm the hearts of even the most hardened comic book fan:
You dust off. You go back. I think you go right back to the beginning and dust off your first issue of Avengers and I've been doing that. I've been watching the 100 hours of Bill Bixby's Hulk. And I've been really thinking about the inception, the original motivation of that character and why they came up with that character. He's a cross between Doctor Jekyll and Mr. Hyde and Frankenstein. I'm finding a lot of stuff there. And I'm actually going to be physically playing the Hulk. No other actor's ever done that. So I've been getting into Tai Chi and Pilates and doing a lot of movement stuff. I don't know what I want to do with it exactly, but I've been working physically to bring the leviathan alive.
[IGN]
Gravity
Just as director Alfonso Cuaron finally gets Sandra Bullock to sign on as the female lead in his astronauts two-hander, he loses his male co-lead. Robert Downey Jr. has reportedly have to drop out of the project because of scheduling problems brought on in part by the long delays. There's no word yet on who Cuaron might find to replace him - indeed, it's entirely possible the project could keep getting delayed long enough for Downey Jr. to rejoin the film. [The Hollywood Reporter]
Green Lantern
It's possible that the new trailer is hiding a couple hints about the other Lantern Corps - Carol Ferris's flight helmet seems to have the Star Sapphire logo on it, and there's a hint of rage-induced red in Hector Hammond's possessed eyes. Check out the link for the visual evidence and judge for yourself. [ComicBookMovie]
Earth Defense Force
The Sam Raimi produced movie, also known as EDF, is reportedly closing in on a director, as Taken's Pierre Morel is considering taking on the project. The movie is about Earth's attempts to respond to a humiliating attack by three alien fighters in time for the next wave of the extraterrestrial invasion. [The Hollywood Reporter]
Doctor Who
Lots of intriguing Doctor Who news today. Let's start with executive producer Piers Wenger, who dispels a couple misconceptions about the upcoming Christmas special:
"There's no one called Scrooge in it and it's not set on Earth, but there are familiar archetypes from that story within it that will please fans of Dickens's original."
The non-Earth setting is intriguing, considering the clips from the BBC preview certainly look pretty Earth-like. If true, this is the new series's first visit to an Earth-like alien planet (or colony world, I suppose), leaving aside New Earth and mentions of the planet Sto in "Voyage of the Damned." [ATV Network]