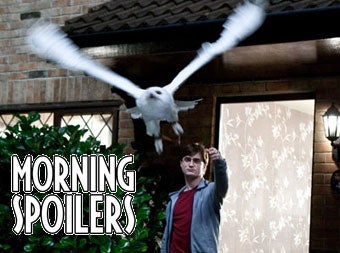 The new Spider-Man film could feature another of Peter Parker's ex-girlfriends...plus his parents. Find your next desktop wallpaper, with tons of high-resolution Harry Potter photos. Captain America's director explains why they found the perfect villain. Plus the Astro City movie!

Spider-Man Reboot:
Zooey Deschanel is reportedly in line to play Betty Brant, a worker at the Daily Bugle and another of Peter Parker's occasional love interests. Director Marc Webb worked with her previously in [500] Days of Summer, so the casting would make sense, but we'd take this with a grain of salt for now. Interestingly, if the new movie really is leaving out Mary Jane in favor of a couple of obscure Spidey love interests, then the movie's basically doing the same thing Christopher Nolan did with Batman villains in his first outing. And yes, in this scenario Gwen Stacy and Betty Brant are the Ra's al Ghul and Scarecrow to Mary Jane Watson's Joker. Makes perfect sense to me. [Showbiz Spy]
In a slight departure from the standard Spider-Man origin story, this movie will reportedly feature Peter's biological parents in the scenes when he's an 8 year old boy. In the comics, Peter's parents usually die when he's just a baby (like most things, the exact story has varied a little over the years - one version involved reanimated cyborgs). It's believed they will appear to help explain how they died and why Peter ends up with his Aunt May and Uncle Ben. None of this seems ridiculous, but we suggest just considering this a rumor for now. [Whats Playing]
Harry Potter and the Deathly Hallows Pt. 1:
Warner Bros. sent out a ton of high-res photos, and here they are. As always, to download high-res version, right-click on "high-res" and choose "save link as." [Warner Bros.]


Captain America:
Director Joe Johnston breaks down the photos that appeared in Entertainment Weekly. In it, he confirms the villains won't just be Hydra - Nazis will definitely feature as well, in case anyone was worried there wouldn't be enough kicking of Nazi ass. He also explains why Hugo Weaving was perfect for Red Skull:
Hugo Weaving was really the only choice for Red Skull. Hugo is a chameleon as an actor. He's played so many incredibly versatile roles, from the LORD OF THE RINGS films, MATRIX, PRISCILLA QUEEN OF THE DESERT. He's never failed to create a multi-layered and complex character. In my own experience with him on THE WOLFMAN, he took a part that was much less significant and inspired us to develop the character into a pivotal role. I wanted Hugo to play Red Skull to SEE what he would bring to the character. He's one of those actors you don't want to look away from.
There's plenty more at the link. [ComicBookMovie]
The Woman in Black:
Here's a couple photos and the plot description for Daniel Radcliffe's first major post-Potter movie, a supernatural thriller set in Victorian times: [/Film]
The story follows a young lawyer, Arthur Kipps (Radcliffe), who is ordered to travel to a remote village and sort out a recently deceased client's papers. As he works alone in the client's isolated house, Kipps begins to uncover tragic secrets, his unease growing when he glimpses a mysterious woman dressed only in black. Receiving only silence from the locals, Kipps is forced to uncover the true identity of the Woman in Black on his own, leading to a desperate race against time when he discovers her true intent.
Astro City:
Kurt Busiek says he's currently working on the screen treatment for an adaptation of his critically lauded comic book series. He explains he's doing it for Working Title Films, the British production company behind Four Weddings and a Funeral, Billy Elliot, and Frost/Nixon. He says they're a natural fit because their movies may be small, but they're all about character, and Astro City is very much about characters, not big action sequences. [Newsarama]
Sherlock Holmes 2:
Rachel McAdams says she doesn't know whether she'll be returning as Irene Adler in the sequel, although at this point if it happens it will definitely only be a glorified cameo. Taking over as the new female lead in this film is Girl with the Dragon Tattoo star Noomi Rapace. [MTV]
Alien Rock Band:
Kung Fu Panda co-director John Stevenson is reportedly directing this live-action/CGI hybrid about a struggling garage band that leaves Earth and travels across the universe to compete in an intergalactic battle of the band against terrifying aliens. [/Film]
Season of the Witch:
Here's the poster for Nic Cage's long-delayed movie in which he and Ron Perlman are medieval knights escorting a woman suspected of being a witch. And, yes, before you ask, Christopher Lee is in it as well. [IMP Awards]

The Walking Dead:
Some promo photos to get you ready for episode 3: [KSiteTV]

Chuck:
Here are a bunch of photos for episode 9, "Chuck vs. the Fear of Death": [ChuckTV]

Torchwood - The New World:
Arlene Tur has reportedly been cast as Vera Juarez, a surgeon. She previously appeared in one of Starz's other attempts at original drama, their TV adaptation of the movie Crash, where she played Bebe Arcel. This is the first somewhat definite casting news beyond the established regulars, although there are persistent rumors that CIA Agent Rex Matheson, the series's new male lead, could be played by Dollhouse's Enver Gjokaj, which would really be just too awesome for words. [Deadline]
Futurama:
Here's a clip from the upcoming Christmas - or, more accurately, Xmas - special, featuring the return of the evil Santa robot. Fair warning - this video might not work outside the US: [Wired] Click to view

Stargate Universe:
Here's a sneak peek at the next episode, "Malice", along with a bunch of promo photos: [TV Blog]
Smallville:
A few new photos are out for the next episode, "Abandoned": [SpoilerTV]

Wild Wild West:
Battlestar Galactica creator Ron Moore is reportedly still working on his reboot of the 1960s sci-fi cowboy adventure series for CBS. [Deadline]