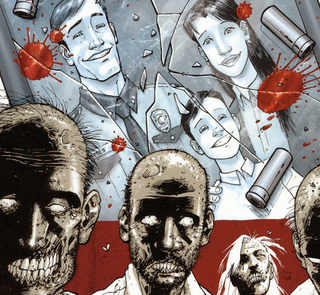 Today, a mint-edition copy of The Walking Dead #1 sold for an astounding $1825 on eBay...and the issue came out in 2003. If you have no idea what all the fuss is about, here's the scoop on Robert Kirkman's zombiverse.
NOTE: This article assumes a familiarity with the first two episodes of the TV series (so there are spoilers) and contains eensy-weensy spoilers about the comic book series (but nothing so egregious to spoil your reading enjoyment).
First off, what is The Walking Dead?
The Walking Dead began as a comic book series in October 2003. The series is written by Robert Kirkman (who at the time was best known for his work on Invincible and Battle Pope) and illustrated by Charlie Adlard, who replaced artist Tony Moore after the first story arc. Kirkman's still writing the series (issue #79 hits stores November 17). Over time, the comic became a best-seller without almost no fanfare, hence the massive eBay dinero.
In 2009, AMC and director Frank Darabont (The Shawshank Redemption) began circling the project, and a six-episode season was greenlit this January. Kirkman's admitted that he's envision the series as a TV show, and that a film wouldn't do the comic's neverending zombie narrative justice. Kirkman may just get his wish — a 13-episode second season of the show was recently ordered by AMC after the season premiere got gangbuster ratings.