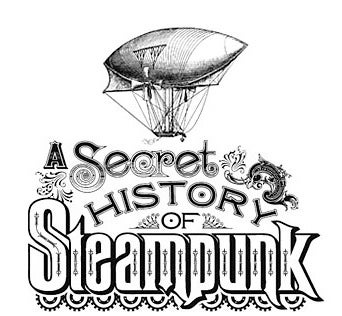 In this month's books, Greg Bear serves up disaster in deep space, while a beautifully designed book sheds new light on steampunk. Plus medieval utopias, star-crossed loves, and a flaming zeppelin!
Steampunk Reloaded, ed. Ann VanderMeer and Jeff VanderMeer (Tachyon Publications)
This lavishly designed compilation offers up short fiction, essays, comics, collage art, and a round-table interview for those looking to deepen their appreciation of a popular subgenre. (See above for one of the lovely interior illustrations.) The follow-up to the Vandermeers' 2008 Steampunk collection, this book brings together previously published fiction by William Gibson, Cherie Priest, and Vilhelm Bergsøe, a Danish contemporary of Jules Verne.

Hull Zero Three, Greg Bear (Orbit)
Being woken by the alarm clock at 7AM on a Wednesday morning is bad enough. Teacher was supposed to remain in deep hibernation all the way to his far-distant destination. But he's just been catapulted out of Dreamtime into a damaged, dangerous spaceship, way ahead of schedule. He teams up with his fellow confused early risers, and together they attempt to work their way to the control room and figure out what's happened to the ship. Bear's latest novel looks cryptic, disorienting and thrilling.

The Habitation of the Blessed, Catherynne M. Valente (Night Shade Books)
Catherynne M. Valente's new novel brings to life one of the great prevailing legends of the Middle Ages. Sometime in the 12th century, a letter emerged and electrified Europe. This document told of a miraculous kingdom to the East, home to such delights as the fountain of youth and ruled by a priest named Prester John. In truth, it was that era's version of science fiction — but Valente imagines if the kingdom were real, and an 18th century missionary stumbled upon the evidence. Anyone interested should definitely check out Valente's Action League Now-style explanation of the underlying theology.