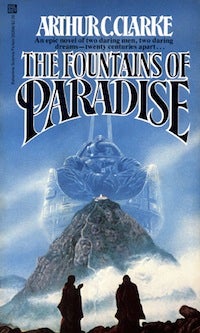 If cleanliness is next to godliness, then I can't help but think God must like 1980's Hugo-winning novel, The Fountains of Paradise, by Arthur C. Clarke — even if it's all about getting in His face.
It maybe seems odd, at first, to learn that Clarke ultimately identified himself as an atheist. Given how much of his work dealt with religion in some form, and how ambiguously he treated the subject — even here, in the pretty consistently hard-SF Fountains, at least one game-changing moment reeks of divine intervention — you'd be forgiven for thinking he might have just checked the box next to "agnostic."
But that sort of uncertainty would have been too messy, and if his writing is any indication, the one thing this Englishman adored was tidiness. (This gay Englishman, no less — way to embody two stereotypes, Sir Arthur.) If, in the trivium that constituted the Big Three, Asimov with his robot laws was the logic, and Heinlein was the rhetoric, then Clarke was certainly its grammar. He is all about mechanics and structure, and abstract thought expressed as monolithic physical symbol. His previous Hugo winner, Rendezvous With Rama, is arguably as much technical manual as it is space adventure. And even though his famous short story "The Nine Billion Names of God" appears to come down on the side of a deity, it does so by rendering the majesty of the immeasurable subject to manipulation by a finite process.