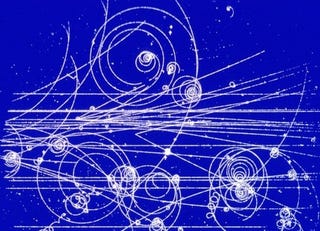 Gravity is usually the arch-nemesis of quantum mechanics, stubbornly refusing to play nice with the forces governing the interactions of subatomic particles. Now we've discovered a rare instance where gravity actually assists quantum interactions, which just might help unify physics.
There are four fundamental forces: gravity, the strong nuclear force, the weak nuclear force, and the electromagnetic force. For our purposes, all we really need to know is that the last three forces are crucial to all subatomic interactions, and that it appears that they can unify together under the extreme conditions that existed in the universe's first moments.
We know that electromagnetism and the weak force merge into the electroweak force at sufficiently high energies, and we have good theoretical reasons to believe the electroweak force would in turn combine with the strong force at even higher energies. That would get us 3/4 of the way to the fabled Grand Unified Theory, which knits together all four fundamental forces into a single framework.
But gravity has no place in this scheme. Indeed, the entire world of gravity described by Einstein's theories of relativity seems to be wholly at odds with the quantum world, as attempts to combine the two mathematical frameworks always lead to a lot of nonsensical results. (For more on this problem, check out our two primers on particle physics.) So any results that even suggest gravity and quantum mechanics can exist in the same cosmos should be considered very good news.