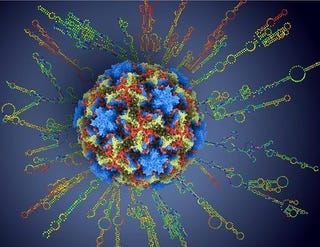 Learning there's no cure to the common cold is many people's first introduction to the frustrating limits of medical science. A new breakthrough could prove that old saying wrong.
This new finding basically involves supercharging the immune system. Cambridge researchers discovered it's actually possible for viral anti-bodies to follow the virus into the body's cells, at which point they can go about fighting the infection. Previously, it was thought the only way to stop a cold was to prevent it from infecting you in the first place, and once infection had occurred, you just had to let the cold run its course.
Lead researcher Leo James explains what this could mean:
"The beauty of it is that for every infection event, for every time a virus enters a cell, it is also an opportunity for the antibody in the cells to take the virus out. That is the key concept that is different from how we think about immunity. At the moment we think of professional immune cells such as T-cells [white blood cells] that patrol the body and if they find anything they kill it.
This could make it possible to create antiviral drugs that essentially kick the cell's natural virus-killing mechanisms into overdrive, sending in a wave of fresh antibodies that can help kill off the virus after the point of infection. Right now, these results have only been demonstrated with human cell cultures from laboratories, and the next step will be to demonstrate this effect in animals. You can check out Gizmodo for more on the finding.