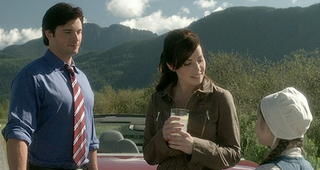 Last week's spooky Smallville was some insane amalgam of The Wicker Man, Robin Williams' Jack, and Tommy Wiseau's The Room. It combined country bumpkin human sacrifices with a creepy turbo-aging Lex Luthor with softcore erotica...with Superman!
Smallville has been on a hot streak of better-than-average episodes lately. "Harvest," to be blunt, was not one of them. But there's a particular paradox when it comes to watching Smallville — the more an episode resembles a steaming hunk of weaponized Velveeta, the more entertaining it tends to be. Indeed, "Harvest" was the kind of episode that will win you over with its sheer badness.
Let's start with the first plot — Clark and Lois are on their way to cover a Cherry Festival (Clark wants to keep Lois away from the anti-vigilante rally, so he puts them on the soft news beat) when they get two flats in the bucolic hamlet of Meeker Springs. Clark power-walks over the county line to buy a new tire while Lois hangs out with what appears to be a friendly Mennonite girl. Lois disappears with girl, who belongs to a cult of hillbillies who drink water infused with blue Kryptonite and sacrifice a woman every year to commemorate the Kryptonian meteor shower of 1989. Why? So the harvest is plentiful, of course.
This plot twist gives the evil Amish a chance to wail on Clark until he rescues Lois with a shotgun. This part of the episode was predictable, villain-of-the week pap, but Erica Durance was in fine form warning the crazies of Meeker Springs that the divine Superman would descend from the heavens and destroy their crops with super-breath.
The second story followed Tess and Alexander, her fast-aging clone of Lex. It was only last week that Tess' promised to love and care for him. She changes her tune real fast when a boatload of totally perplexing events go down: