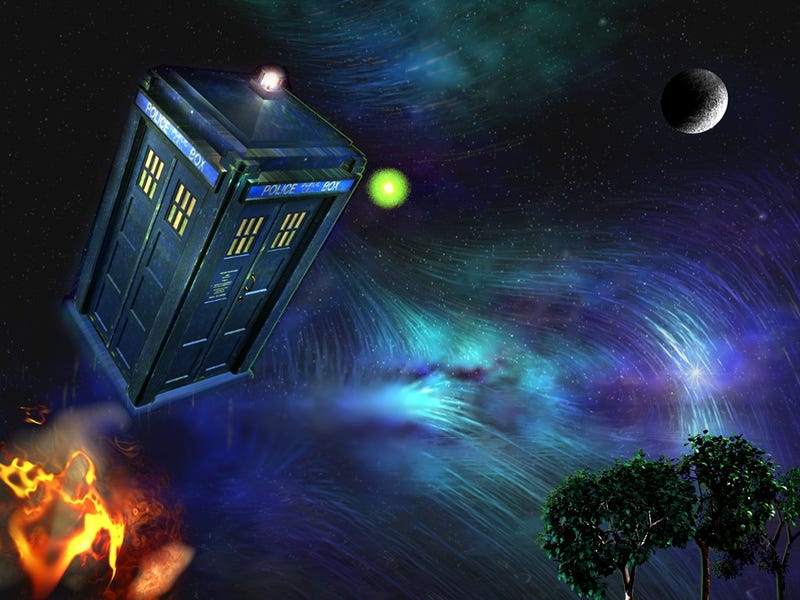 In this week's "Ask a Physicist" we're going to give some design specs to the practical time traveler.
Astute readers of the "Ask a Physicist" column may have noticed that I've had a time obsession over the last few weeks, leading up to a big time travel extravaganza. A number of you took the bait that I put out last week and asked me (via mail, twitter, and facebook) about time machines. Abe Rudo put it perhaps most succinctly:
What's standing between us and time travel? Is it true that we'll only really be able to move forward in time (as a result of relativistic travel, for example), or is backwards travel just as feasible once the mechanism is discovered?
This is a controversial subject, so let me get a couple of things out of the way right from the start:
I'm not going to get all squishy and philosophical on you, at least not here. You guys know about your grandfather paradoxes and whatnot, so you should feel free to debate them in the comments section.
I'm going to be a bit of a Debbie Downer here. I'll you from the outset that time travel into the past might be impossible from the standpoint of physics. The upside, though, is that we don't actually know that it's impossible.
I'm only going to talk about general relativity time machines. While they may turn out to be impossible, they're less impossible than non-general relativity time machines. What I mean is this: general relativity is currently our best, most widely accepted, most convincingly proven theory to describe time. And it seems to have solutions that allow for time machines. You may have your own crazy-ass theory about time that falls outside GR, and you're entitled to it, but that doesn't mean it's likely to be true.
I'll get my obligatory TARDIS, phone booth, or Delorean references out of the way early. For "realistic" time travel, you're almost certainly going to need a spacecraft, and perhaps one going a sizable fraction of the speed of light.
Now that I've got my scolding out of the way we can get down to business. General relativity makes a number of big predictions, including the idea that mass warps space-time. If you missed my column on falling into a black hole, the effect of this is that time runs slower near a massive body than far away. You could build a time machine, of a sort, by hanging out near the edge of a black hole, allowing the universe to age must faster than you, and then returning home... to the future. But since you were going to wind up in the future if you just waited long enough, this is kind of stretching the definition of time travel.