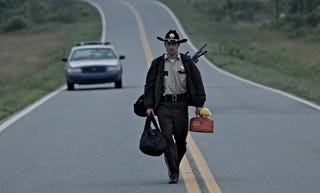 The Frank Darabont-directed series premiere of Robert Kirkman's The Walking Dead debuted tonight on AMC. This opening episode was a solid addition to the undead canon, and the show makes an excellent case for adapting serialized comics for television.
Note: Given that this is a recap, it contains spoilers.
As we noted in our spoiler-free teaser of the series, the show follows the opening issues of Kirkman's long-running zombie series pretty religiously. In both the series and comic, Georgia sheriff's deputy Rick Grimes (Andrew Lincoln) goes into a coma after being injured in a shootout with crooks. Upon waking up weeks later, Rick discovers that zombies have overrun his little slice of Americana. A delirious Rick wanders out of the hospital and is rescued by the father-and-son survivor team Morgan (Lennie Jones) and Duane Jones (Adrian Kali Turner).