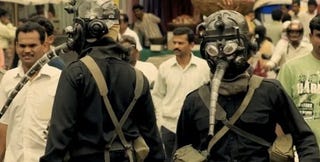 This week on cult worship, we're paying homage to all things spooky. So check out the delightful webseries CO-OP OF THE DAMNED, new werewolf rock anthems, creepy futuristic bug police and a new vampire blood addict.
"Lonely Lunch" Music Video
Twitch Film has found the latest amazing scifi contribution from the Lost For Words director Sean Wainsteim (a project we called a darker Phantom Tollbooth). His latest project is a stunning music video for You Say Party. The track is titled, "Lonely Lunch," though we're not sure it has much to do with the fantastic dystopian chase scene Wainsteim created on the streets of Mumbai. Keep watching all the way through, it's exceptionally clever. Also, the mosquito police squad will haunt our dreams forever.