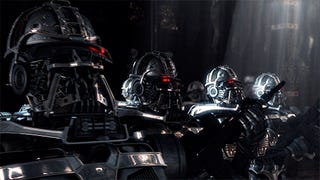 Troubled Battlestar Galactica spinoff Caprica has been nuked by Syfy. Not only will the show not be getting a second season, the remaining episodes of this season won't be aired until next year.
Syfy announced that the remaining episodes, starting with the one that would have aired next week, will be shown in early 2011. This is horrible news for fans of the show, which was just reaching fever pitch with last night's episode. Unfortunately, the show's fans were dwindling rapidly, with the most recent episodes reaching less than 1 million viewers.
Mark Stern, EVP of Original Programming at Syfy:
We appreciate all the support that fans have shown for Caprica and are very proud of the producers, cast, writers and the rest of the amazing team that has been committed to this fine series. Unfortunately, despite its obvious quality, Caprica has not been able to build the audience necessary to justify a second season.
Last week, Syfy announced it would be starting work on a BSG prequel show called Battlestar Galactica: Blood and Chrome, about young William Adama's experiences in the first Cylon war.