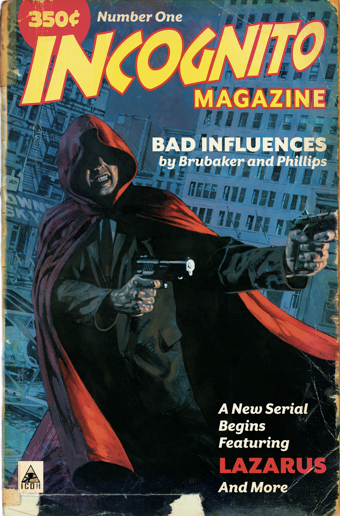 The media may be in a tizzy about Clark Kent's swank new duds in Superman: Earth One, but there are many reasons to get excited this Wednesday. Death debuts in Action Comics and Ed Brubaker's Incognito is back!
NOTE: Yes, we know that Superman: Earth One is on the stands tomorrow. Later today, we'll have our review of the book up as well as our conversation with Dan DiDio about this Kryptonian revamp. Stay tuned!
One big reason to get excited this week is the return of Ed Brubaker and Sean Phillip's Incognito. In Incognito: Bad Influences (Icon/Marvel), series star (and reformed supervillain in Witness Protection) Max Overkill has become a reluctant hero. Overkill must contend with the bureaucratic channels of being a good guy, something he didn't have to deal with during his misbehaving days. Brubaker promises that this series will be jam-packed with noirish frissons, and the issues' contain back-up essays from annotation master Jess Nevins.



There's a duo of high-profiled supernaturally tinged comics out Wednesday. The first is Action Comics 894 (DC) — Paul Cornell brings Lex Luthor face-to-face with Neil Gaiman's comely Death. Be sure to check out our interview with Paul for more details, and you can read a preview at DC's Source blog.