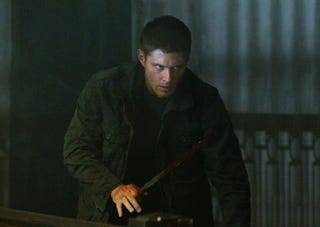 Supernatural already did what few shows have managed: end all its storylines in a logical, even beautiful, fashion. So the idea of a tacked-on extra season made us nervous, but Friday's episode helped prove this show deserves to go on.
Spoilers ahead
"Live Free Or Twihard" pulls the same trick as some other Supernatural episodes, but along the way, it also shows that this show still has lots of things left to say, both about its characters and about life in general. At first blush, it's just a brilliantly clever mockery of Stephenie Meyer's Twilight as well as shows like The Vampire Diaries — I really wish this episode had aired right after a TVD episode — but then it takes a weird, psychotic turn at some point and gets a lot darker and more fascinating.
Not that the spoof isn't terrific in its own right — the long opening sequence, which is such a painfully spot-on riff on the Twilight series, pulls the rug out perfectly when the vampire turns out to be like all vamps in the Supernatural universe. And the later scene where Sam and Dean go to the girl's bedroom and witness the crapitude is just hilarious and will be quoted until the end of time, or until the Twi-craze dies out, whichever comes first.