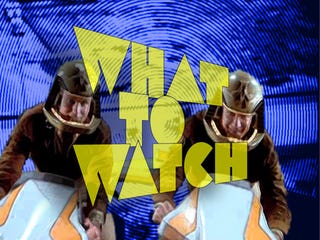 Television's serving up hot zombie nightmares for Halloween. The Walking Dead debuts, but so does British reality TV/zombie epic Dead Set. Watch a clip of Felicia Day as a werewolf-hunter in Red. Plus sex robots, and Glee's Rocky Horror episode!
Today:
There's a new Scooby Doo - Mystery Inc. at 7 PM on the Cartoon Network ("When The Cicada Calls"), followed by a new Johnny Test at 7:30 PM ("Johnny Test's Day Off").
And then there's an exciting new Chuck on NBC at 8 PM, in which it looks like Chuck will be reunited at last with his mom (Linda Hamilton). Also, Jeffster are in charge of Halloween decorations at the Buy-More. Be very afraid! That's "Chuck Vs. The Aisle of Terror." Here are a couple of sneak peeks:

There's also no new House on Fox, due to baseball.
At 8 PM, there's Adventure Time on Cartoon Network ("Loyalty to the King"), followed by a new Regular Show at 8:15 ("The Unicorns Have Got to Go"), and a new Mad at 8:30 PM.

Can you handle the truth? The Event will test that readiness, at 9 PM on NBC.
President Martinez (Blair Underwood) and the Director of National Intelligence, Blake Sterling (Zeljko Ivanek), fulfill their agreement with Thomas (Clifton Collins, Jr.), but after their plan goes awry, they suspect that there is a possible mole in their midst. Elsewhere, Sean Walker (Jason Ritter) digs for answers at Leila's home, where he encounters Madeline (guest star Paula Malcomson), a mysterious conspiracy theorist. Meanwhile, Simon's (Ian Anthony Dale) past is illuminated, and his allegiances are tested.
And at 11:59 PM, IFC has the first episode of Dead Set, the absolutely incredible British series in which contestants on the Big Brother reality TV show realize that the outside world has been overrun with zombies. It's possibly the most bizarre, inventive zombie premise ever, and it's airing every night on IFC this week. You can't afford to miss this show.