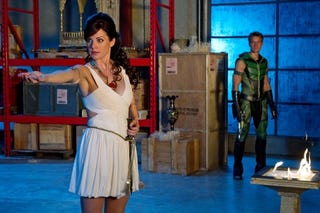 Friday's episode of Smallville, "Isis," was a villain-of-the-week tale punctuated by moments of intense cuteness. Smallville is at its best with a little levity, but man, they are layering on the love. Also, Green Arrow got his own breakfast cereal!
Indeed, love was the message of last night's Smallville. There was a lot of exposition on how characters lack love (see: Tess, Ollie). Other characters loved too much — Lois turned into the Egyptian god Isis after a magic necklace stowed away with her from Africa. Under the control of Isis, Lois tries to resurrect Osiris and bring the Underworld to Earth. Characters played semantic volleyball over the definition of the word "love" (Clark and Isis exchanged recriminations that neither knew what love was). And Tess discovers love when she decides to take care of her wee creepy Lex clone, who has Jack syndrome.
And nobody loves that snoopy Cat Grant, least of all the audience. Seriously, what's up with her characterization? In "Deadshot" they established that she was annoying albeit hard-working single mom. Here's she's just an irredeemable pain-in-the-ass. We can't empathize with a character when she's stabbing Lois with pens and acting like a yokel.