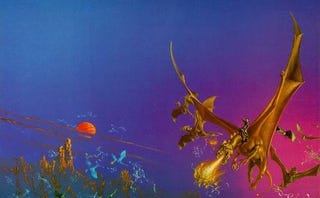 It used to be, science fiction took place in the future and fantasy in the past. But lately, more science fiction takes place in the past. So we can't help wondering whether there'll be more fantasy set in the future.
We're in Ohio for the World Fantasy Convention, so it's a perfect time to wonder about fantasy and whether it'll ever become futuristic.
It's easy to see why science fiction is usually viewed as the literature of the future — a lot of SF is about advanced science or technology, and speculating about what might be. If it's in the future, it could really happen — whereas speculations about the past are automatically counterfactual. (If you believe history, anyway.) Plus we tend to think of magic and myth as relics from an era before we "knew better," thanks to science. So it's easier to buy into a magical quest from an era before physics.
Except, of course, magic and science aren't mutually exclusive. And the more we learn about science, the more we realize we don't really understand how the universe works in some very fundamental ways. As Tower of Power says, "The more you know, the more you know you don't know."
So maybe it's just my perception - but it feels like more science fiction takes place in the past lately. For one thing, a lot of the current vogue for steampunk and alternate history seems to involve the joy of reimagining the past with more weird science, or other surprising elements, in the mix. And even when you get stories set in the future, it's often a reflection of the past, as with Julian Comstock, Liberation and other novels about a future that's a throwback to 150 years ago. And on the movie front, there's a boomlet of stories where an alien or aliens land in Earth's history, like the upcoming Cowboys and Aliens.
And meanwhile, there's been tons of talk about the huge surge in sales of urban fantasy, which is fantasy set in the present. (There are other types of fantasy set in the present besides urban fantasy, of course, including a lot of horror fiction.) With fantasy already conquering the present, what's to stop it moving into the future next?