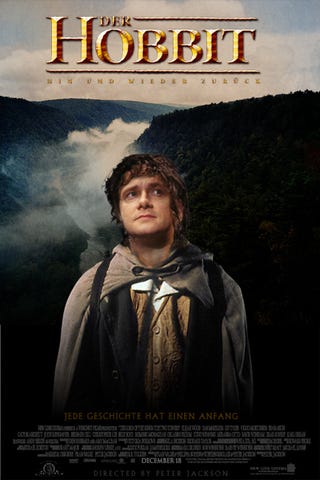 Martin Freeman has officially landed the part of Bilbo Baggins in Peter Jackson's Hobbit movie. But wait — there's more good news. David Tennant may still have a part in this fantasy epic after all.
According to Deadline, Jackson has finally announced that Freeman will play Bilbo:
"Despite the various rumors and speculation surround this role, there has only ever been one Bilbo Baggins for us... There are a few times in your career when you come across an actor who you know was born to play a role, but that was the case as soon as I met Martin. He is intelligent, funny, surprising and brave — exactly like Bilbo and I feel incredibly proud to be able to announce that he is our Hobbit."
And that's good enough for us, we're all big Freeman fans here. This was a wise casting decision. But that's not all, Jackson released a list of dwarf castings. Here they are:
Richard Armitage (Captain America) will play Thorin Oakenshield, leader of the Dwarves who all wanted to reclaim their ancient dwellings inside the Lonely Mountain which was destroyed by the dragon Smaug and leader of Bilbo's Dwarf pack as well.
Aidan Turner (smoldering hot vampire from BBC's Being Human) and Rob Kazinsky (EastEnders, Timeless) have been cast as the Dwarf brothers Kili and Fili. They're the nephews of Thorin and a bit comical at times. They are definitely the youngest of the bunch.