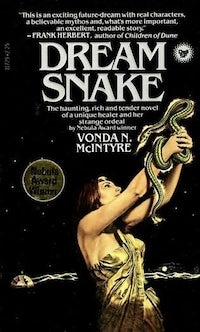 Back when it won the Hugo in 1979, Vonda McIntyre's Dreamsnake was one woman's radical ride through a post-apocalyptic world. Too bad it's been out of print for over a decade.
I'll be honest, I wasn't exactly sure what I was gonna say about Dreamsnake. The book had me a bit baffled and, though it also won the Nebula and Locus awards, people don't talk about it much anymore.
But I got lucky. Vonda McIntyre, who wrote it, has contributed a couple of recent posts to io9 (see here and here), and she graciously agreed to talk to me about the book.