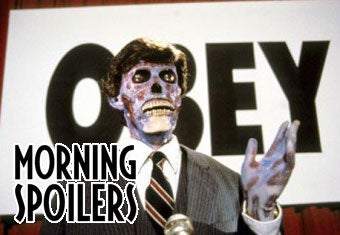 Could Zack Snyder be casting an older Superman? Will the Ouija Board movie be a blockbuster adventure? Hellraiser gets two directors. Also: Harry Potter trailer, Caprica clips, Aronofsky's Wolverine sequel hints, Hobbit progress, and clues on Teen Wolf and Trek.

Superman: The Man Of Steel:
We've all been told this reboot is about the early days of Superman, but a new story puts that in question. Armie Hammer, who was set to play Batman in the abortive Justice League movie, has been rumored as a candidate to play Kal-El in this new movie. But he tells New York Magazine, "I did talk to my people recently about that for the first time, and I think they're going a little older with Superman. I hear they're going 35, 40." Has he just been misinformed, or is this an older Superman who just hasn't quite gotten around to starting his super-career yet? [New York Magazine]
Harry Potter and the Deathly Hallows Pt. 1:
Even though this movie is like a month away, it's already topping ticket sales. The studio sent us this new TV spot. (I uploaded the super-high-res version, so you can click on HD and get a nice picture):

Wolverine:
Hugh Jackman confirms that Darren Aronofsky will direct, and promises the film won't be a "usual" X-Men movie:
This is Wolverine. This is not Popeye. He's kind of dark. But, you know, this is a change of pace. Chris McQuarrie, who wrote The Usual Suspects, has written the script, so that'll give you a good clue. [Aronofsky's] going to make it fantastic. There's going to be some meat on the bones. There will be something to think about as you leave the theater, for sure.
Avatar:
James Cameron wants to film Avatar 2 and 3 back to back:
Our plan right now is to do two and three as a single large production and release them a year apart. In order to do that, we have to refine our technical processes beyond the end of where we were finishing 'Avatar' one a year ago. We need to future-proof ourselves out five or six years to the end of the third film.
And he hints, yet again, that Sigourney Weaver may be back as Grace. [Coming Soon]
Star Trek 12:
Time for your daily quotes about this movie's script, now in the process of being written. Co-writer Alex Kurtzman says when they broke the sequel's story, it was "an epic moment for us, of feeling like we finally came to something that meets our expectations." And Roberto Orci says of adding more famous Trek characters to the sequel:
Now we have all of characters in place for the beginning of the movie, so order number one is to make sure we're taking care of them. The first movie had the benefit of slowly introducing them – they weren't all there from the beginning. Now they're all there, and we want to make sure everyone gets what they deserve first before we see who else can fit in.
Also, don't hold your breath for a Shatner cameo. [NBC Connecticut News]
Ouija Board:
Apparently the leading contender to direct the movie adaptation of this successful toy is Pierre Morel, who directed Taken and is working on Dune. And it won't be a spooky horror movie, as you'd expect — rather, it'll be a National Treasure-esque widescreen adventure with lots of chases and huge action scenes. Michael Bay's production company is producing, and several Lost writers are working on the script. [L.A. Times]
Skyline:
I've noticed a couple of TV spots showing during some science-fictiony shows like Chuck lately. They include a bit of new footage and clarify some plot points, like the fact that the aliens can only hoover you up if you look into the light.

And here's a poster that I don't think we've shared before.


The Hobbit:
The good news is, New Zealand actors' unions have decided not to boycott this production. The bad news is, Peter Jackson says the damage is already done and the production may have to move elsewhere anyway — maybe to Harry Potter's studio in the U.K. Lots and lots of angry quotes at the link. [Variety]
Emergency!
This non-fiction book by The Game's Neil Strauss, about how to survive the apocalypse, has been optioned by Columbia and Robert Downey Jr. as a possible film, which Downey Jr. might star in. Allan Loeb (Wall Street 2) is writing the screenplay. Would you want to see RDJ as a survivalist facing the end of civilization? [Slashfilm]
Hellraiser:
Patrick Lussier and Todd Farmer, the writer/director duo behind Drive Angry 3-D, will direct this remake. And it won't be PG-13, as was rumored the other day. [Shock Till You Drop]
The Home:
This horror movie about monsters attacking senior citizens has lined up a pretty star-studded cast. Louise Fletcher (Nurse Ratched!), Louis Gossett Jr., Ed Asner (Mr. Grant!) and Lost's Fionnula Flanagan will all co-star. And there's a hint that the things attacking these astonishingly great actors will include "anthropomorphic IV stands." The film, produced by Elijah Wood, aims to start production in early 2011. [Film School Rejects]
Transformers: Dark of the Moon:
This film will indeed be post-converted to 3-D. [Moviefone]
Piranha 3-DD:
Dimension Films is rushing a sequel to Piranha 3-D into production, for release next summer, and yes, they're really calling it Piranha 3-DD. I know. Feast's John Gulager will direct and Saw 3-D writers Patrick Melton and Marcus Dunstan are doing the script. And whoever didn't die in the first movie might be back. [Deadline]
Pluto:
Even though the Astro Boy movie didn't blow up, Universal Pictures and Chris Meledandri's Illumination Entertainment are trying again. They've signed up with Tezuka Productions to adopt Pluto, a manga that updates the characters from Astro Boy, in a futuristic setting that features lots of giant robots and cyborgs. Pluto won't be straight-up animation, but a blend of CG and live action. Meledandri produced Despicable Me and a ton of upcoming pictures, including Tim Burton's stop-motion The Addams Family. [Deadline]
Teen Wolf:
Did you remember that MTV was making a new TV series based on this 1980s movie? The pilot, directed by Highlander director Russell Mulcahy, was filmed in late 2009, and the first 12 episodes are finally airing in 2011. Tyler Posey plays Scott McCall, a lacrosse player who wishes he could be popular, until one day his friend Stiles (Dylan O'Brien) convinces him to join the police search for a dead body in the woods, and Scott has an encounter with a creature that bites him, giving him powers and abilities that transform his life forever. Posey says his character is "one of those outcasts and underdogs who's trying to come up." Crystal Reed plays Allison Argent, the "new girl in town," who just wants to fit in. And in addition to changing basketball to lacrosse, Posey says the TV series is also much darker than the movie. Way, way more at the link. [Collider]