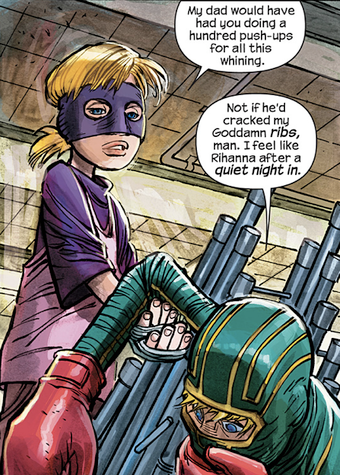 There's a lot of comics coming out this week, but the two standouts are Mark Millar and John Romita Jr.'s Kick-Ass 2 and cartoonist Charles Burns' Hergé-inspired headtrip, X'ed Out.
First off, Mark Millar makes another power play for world domination with the undoubtedly restrained Kick-Ass 2 (Marvel/Icon). This time around, Hit-Girl is teaching her hapless bodysuit-clad colleague to fight (because he never really mastered that skill the first run around). Expect mass impoliteness.
Another big release this week is Charles Burns' colorized graphic novel X'Ed Out (Pantheon), which tells the story of teenager named Doug as he navigates a hallucinatory dreamscape that's equal parts Tintin and William S. Burroughs. This is Burns' first major work since his mutant high schooler opus Black Hole, so this is a big honking reason to get excited.