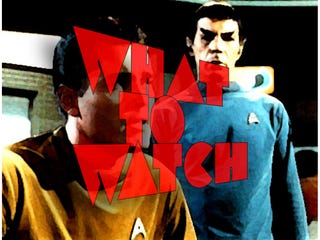 This week, Paul Dini (Batman: The Animated Series) unveils a live-action show about super-teens on lockdown. Batman faces Emperor Joker, and we've got two clips. Seven of Nine moves into a haunted house. Plus Adam Baldwin wears a stormtrooper helmet!
Today:
There's a new Scooby Doo - Mystery Inc. at 7 PM on the Cartoon Network ("The Shrieking Madness"), followed by a new Johnny Test at 7:30 PM ("Johnny's Royal Flush").
And then there's a new Chuck on NBC at 8 PM, in which Morgan has something to tell Casey. Please, please, please, let this episode have more awesome Morgan/Casey scenes like last week's fluffy blanket moment, and fewer scenes where the villain helps Chuck and Sarah figure out their relationship. At least this first sneak peek makes it look like a Casey-centric episode. And is Casey wearing a Stormtrooper helmet???

There's also a new House on Fox at 8 PM.
At 8 PM, there's Adventure Time on Cartoon Network, followed by a new Regular Show at 8:15, and a new Mad at 8:30 PM.
There's a new episode of The Event at 9 PM on NBC, in which Simon asks Sophia to betray Thomas. And it looks like those plane crash survivors aren't doing so hot:

Movies:
Seriously, run home now and set your DVR. Syfy is having a marathon of the Leprechaun movies in reverse order, including Leprechaun 4: In Space! If you've never seen a giant leprechaun explode in space, you kind of owe it to yourself to record this. Starship Troopers is on Encore at 4:10 PM and 11:10 PM. Also, AMC is showing Tremors at 6 PM, followed by the first two Friday the 13th movies. At 8 PM, Disney is showing the awesomely titled Mostly Ghostly, starring Sterling Beaumon, and FX has Aliens Vs. Predator: Requiem.