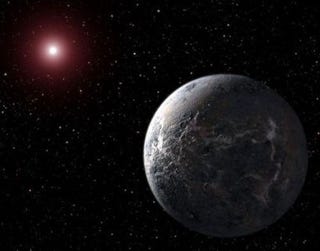 It's not a fun question to ask, but anytime a discovery of this magnitude comes along, it's a good idea to hang on to a little skepticism. So let's sort through the biggest questions about Earth's newly discovered sibling.
This week, some astronomers have raised doubts over the existence of Gliese 581g, popularly known as Zarmina. What do these reports mean, exactly? Is Zarmina a cosmic goof, a phantom planet that was never really there? The short answer is that Zarmina probably does exist, but a lot of what we've heard about this planet could well be baseless speculation.
First of all, let's deal with the matter of Zarmina's existence. This is probably the only thing we can know about Zarmina with any certainty in our lifetimes, and the balance of evidence is still pretty strongly in favor of its existence. The recent objections don't say that Zarmina doesn't exist, just that other teams can't confirm its discovery.
The main challenger to the Zarmina discovery is Francesco Pepe and his team at the Geneva Observatory. He explains that his data can easily confirm the existence of the four previously discovered planets around Gliese 581 - planets b, c, d, and e - but he can't find similar evidence for the new planets f and g:
"Simulations on the real data have shown that the probability that such a signal [for Gliese 581g] is just produced 'by chance' out of the noise is not negligible, of the order of several percents. Under these conditions we cannot confirm the presence of the announced planet Gliese 581g. We haven't made a detailed analysis yet, but at first glance no statistically significant signal [for planet f] is emerging from our data set."
Now, it's important to pay close attention to what he's saying here. Pepe says that the gravitational signal of Zarmina is a faint one, and in fact it's right around the level of statistical noise. That means it's possible that Gliese 581g is just an artifact of the data noise, although Pepe himself says this is simply "not negligible." That means there's a legitimate chance the planet doesn't exist, but that chance is still smaller than the probability that the planet actually does exist.
Science doesn't like to deal in absolutes, with good reason. As such, it's important to remember that Zarmina is unconfirmed, but that doesn't mean the planet doesn't exist. Indeed, Vogt's original paper acknowledges the fact that the planet's existence isn't entirely secure, which has been largely glossed over in news reports, including here. Even so, the odds are still very good that Zarmina exists and that further investigation will confirm that it's out there, although the jury is still out on Gliese 581f.
But is there life on Zarmina?
Although I'd say there's good reason to be confident about the existence of Zarmina, whether there's life on the planet is a much trickier question. For his part, Steven Vogt has been fairly definitive on this point, saying he believes there's life there. As he pointed out in his interview with us, that's just a statement of his personal belief, and not his considered scientific opinion.