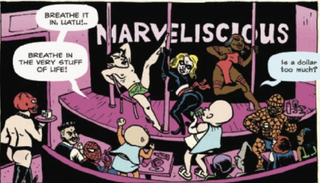 What's up with this week's comic haul? New Batman , Shadowland, and Locke and Key! Also, the second installment of Marvel's Strange Tales anthology is out! This comic features a ton of indie creators reinterpreting merry Marvel weirdness.
First off, we have Star Wars - Knight Errant Aflame 1 (Dark Horse), a new series starring novice Jedi Kerra Holt. Another new hero debuts in Mark Millar's Superior 1 (Marvel), the story of a boy with multiple sclerosis and the superhero in his life. Meanwhile, Atlas Comics' Grim Ghost and Phoenix (Ardden) are reintroduced in their respective titles. An even older hero, John Carter of Mars, makes his comeback in Arvid Nelson's Warlord of Mars (Dynamite).
It's a big week for the Bat-books. Paul Cornell's Knight and Squire 1 DC hits stands; check out our interview with Cornell about this London hero here. Grant Morrison's The Return of Bruce Wayne 5 (DC) comes out, and Bruce Wayne is a hard-boiled detective in a pulp Gotham. There's also a slew of Bruce Wayne: The Road Home one-shots: Batgirl, Batman and Robin, Outsiders, Red Robin, and Catwoman. Another encyclopedic DC title is the Justice Society Of America 80-Page Giant 2010, and in the unlikely crossover department we have Tiny Titans/Little Archie (DC). Dammit, there goes my half-done spec script about Cyborg and Moose solving crime together.