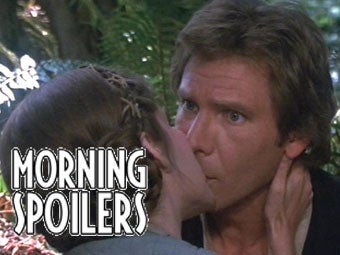 Get the inside scoop on the world of Skyline and the characters of Deadpool. Martin Freeman still wants to be The Hobbit. Plus Rendezvous with Rama, Ghostbusters 3, 28 Months Later, Caprica, Fringe...and, just for fun, Eastbound and Down.

The Flash:
The Hangover star Bradley Cooper is reportedly Warner Bros.' and DC's first choice to play the Flash. Cooper, who was one of the reported final runner-ups to Ryan Reynolds to star in Green Lantern, has the kind of vaguely smug charm that seems like a better fit for hotshot pilot Hal Jordan than straitlaced forensic scientist Barry Allen — which could mean the movie's script is going to reinterpret Barry Allen somewhat, or we're about to see another side of Bradley Cooper if he takes the role. [Moviehold]
Super 8:
Brad Pitt was reportedly spotted in the same rural corner of West Virginia where the movie is shooting. As the tipster puts it, this is too small an area for Pitt to be there without being involved with the project. However, inside sources deny any involvement from Pitt — so take this with a goodly heaping of salt. [ShockTillYouDrop]
Skyline:
The Strause Brothers explain a little of what happens in the movie's alien invasion. According to Colin, this movie is about as apocalyptic as it gets:
"It's not like it's just attacking one city. Pretty much, by Act Two, 99.9% of everyone is gone. There's an interesting scale to it where it's not like it's a little battle and you can fight back. It's basically that you're wiped out. How do these people survive the next day or so if 99% of the world is gone? And it's such a simplistic way that everyone is taken that everything stays untouched. It's not like cities are destroyed or anything. It's like everyone is literally vacuumed off."
CinemaBlend has a really cool, extensive preview, including a recap of four all new scenes that you can check out here. Here are some other goodies from the preview...
Skyline screenwriters Liam O'Donnell and Joshua Cordes say they finished the treatment for Skyline 2 a couple weeks ago. There's more at the link, including a discussion of their many, many reference points (including Alfred Hitchcock's Lifeboat!) they drew on when writing the movie. [CinemaBlend]
On the sequel, the Strause brothers say new characters will definitely be added, and this ties into the end of the first movies in ways they can't yet reveal. They also discuss the design of the UFOs:
The idea was [that] we've seen metal ships, we didn't want to do metal ships. So we went for a more organic, single-celled organism. Each one should be unique, asymmetrical. These were characteristics of mitochondria, and other little things from nature, microscopic microbes that we were drawing references from. We thought it was cool if you were to shoot one of these ships that it would heal over and maybe it would have a scar. That was the original seed of the idea. Maybe [there are] blood vessels pumping fluid through the ship.
And here are some new images: [CinemaBlend]

X-Men - First Class:
The Oxford Student, which says it's been the University of Oxford's newspaper since 1992 (which seems disappointingly modern, considering the school dates back to the 11th century), has some details on the movie's filming at the campus:
The scenes shot in Oxford will include Xavier getting doctorates in theology and philosophy from Oxford University in the 1960s, his manipulation of student uprisings using his psychic powers, and the way he meets best friend turned arch rival Magneto.
The report also mentioned the scenes will be set at Oxford - the school isn't doubling for some other university. For more, check out the original article. [The Oxford Student]
Deadpool:
A new report names a bunch of characters who will appear in the film alongside Deadpool. Most of the names are unsurprising characters from Deadpool's corner of the Marvel Universe, including Blind Al and Patch, as well as Weapon X characters like Wyre, Ajax, Sluggo and Garrison Kane. Deadpool's occasional love interest Vanessa Carlyle is heavily featured in this story, although there's no hint of her mutant status, something the comics added to her character later on.
There is one big guest star from the previous X-Men movies - Colossus will appear in multiple scenes in more than just a glorified cameo, as he "has got some stuff to do" in the story. It's unknown whether original actor David Cudmore, who is now appearing in Breaking Dawn, will be approached to reprise the role. The report suggests there's at least one other notable character who only appears very late in the story, but whether this is a well-known guest star (start up the Hugh Jackman cameo rumors in 5, 4, 3, 2...) or an important character from the Deadpool story is unknown.
For more details, check out the original report over at Bleeding Cool.
The Hobbit:
Martin Freeman confirms he was approached to play Bilbo Baggins, and that he had to turn it down to do the second series of Sherlock Holmes. However, if production is again delayed long enough to open his schedule back up, he says he would love to participate:
"If there is any outside possibility, then that would be great. But I've learned not to think too much of hope too much about stuff. It will happen if it happens. I reckon I could do a young Ian Holm. I think I could give that a go."
Also, the two films are thought to have a total budget of about $500 million, which would make them the most expensive films ever made. Factor in about $100 million worth of legal costs, and the films will have to make well over a billion dollars to be profitable. [IGN]
Rendezvous with Rama:
Morgan Freeman has been working since the mid-nineties to bring Arthur C. Clarke's novel to the big screen, including bringing David Fincher on board to direct in 2007. Asked about it the other day, he confirmed he's still working on it, and Fincher is still potentially involved:
"We're still pushing for Rendezvous With Rama. That's a got-to-be-done movie. Just have to figure out how to do it. I've been trying for — I don't know — 15 years now to get a script. You would think it was easier than it is. It's not; it's really hard. Fincher is still part of the conversation. It's a hard nut to crack, but once it's cracked it could become something."
28 Months Later:
The logical progression from 28 Days Later and 28 Weeks Later might actually be happening, and original director Danny Boyle reportedly says he wants to direct it. A "source close to Boyle" claims the acclaimed director has a new film in the works, that "in theory, yes" it will be called 28 Months Later, and he does indeed want to direct it, not just produce. This seems fairly promising, although a very recent statement from 28 Days Later screenwriter Alex Garland was decidedly less optimistic. Frankly, I'm just trying to figure out which sequel I'd be more interested in seeing - 28 Decades Later or 28 Millennia Later. [Dread Central]
Ghostbusters 3:
After Dan Aykroyd's decidedly optimistic and not entirely convincing update about the project last week, which some interpreted as him saying he was now rewriting the script, here's a much more reasonable-sounding update from some inside sources, courtesy of the great FilmDrunk:
* Aykroyd is involved enough that the studio will listen to his input, but he's NOT doing a rewrite of the script, which the director (Ivan Reitman) and studio (Columbia) are already happy with.
* [Gene Stupnitsky and Lee Eisenberg] are currently the only writers on the project and as of now the studio has no plans to replace them
* Harold Ramis, Reitman, and Aykroyd have all signed on, and the script is going out to Bill Murray now.
* Without Murray, there's no movie.
* If he agrees, pre-production will start early next year for a late spring/early summer start date and a Thanksgiving or Christmas 2012 release.
Again, none of this should be taken as gospel truth, but it does seem like the most plausible appraisal I've read of where the project stands. [FilmDrunk]
Tron Legacy:
A new poster shows off the film's resident DJs, Daft Punk: [CinemaBlend]

Breaking Dawn:
Here's the first couple of set photos: [ReelEmpire]

Sin City 2:
Robert Rodriguez has once again promised he'll make this movie, something he's said he'd do countless times before and never got around to. If he's pulling our leg again, at least he's getting more subtle about it - instead of saying it's his next movie, he says he's doing Spy Kids 4 (no, we have no idea either), and then it's on to Sin City 2. That at least seems vaguely realistic, although we'll believe it when we see it. [Facebook via The Playlist]
The Walking Dead:
This insanely awesome new behind-the-scenes video is seventeen minutes long, and features a ton of new stuff: Click to view

And there are just a ton of new photos. First, some promo photos of the cast: [SpoilerTV]

Now for some pictures from the first three episodes. We've split them into three separate galleries: [Fused Film] [gallery 5661502]





Fringe:
According to the always reliable IMDB, episode 7 will guest star David Nykl as Reverend Marcus and Curtis Harris as Christopher Broyles. Since these are such minor additions, they're more likely to be legit, but still consider them unsourced for now. [SpoilerTV]
Chuck:
Here's an interview with Captain Awesome himself, Ryan McPartlin: [SpoilerTV]
And the other half of Team Awesome, Sarah Lancaster, says the birth of their baby is contingent on the show getting a pickup for the back nine episodes of this season. She also explains how Chuck and Ellie will discuss the search for their mother in future episodes:
In the next couple episodes, Chuck is going to talk to her more about their mom, to see if [Ellie] has any interest in knowing what happened to her. In seasons prior, Ellie was very cut and dry with regards to her mother, but now that she's pregnant and thinking about a family of her own, it's softened her a bit. She's thinking, "Do I want my child to know her grandma? Do I participate in this?" It's bringing up a lot of stuff.
[Fancast]
Eastbound and Down:
Danny McBride gave a wonderfully bizarre description for the third season of the show, which, if read completely credulously, says Kenny Powers's next stop on his comeback tour is the moon of Endor:
"In our wildest dreams, this was like a three-season show that arced over those three seasons, so we do have an idea of where to go: It's to an Ewok village, next season is 'Return of the Jedi.' There's all this parallel action between a space station and a planet with furry creatures, and I think people will like that. It's different from what we've been doing."
Now, he's almost certainly either speaking metaphorically, joking, or a combination of the two. And sure, maybe we're still just riding high from that Your Highness trailer, but still...Kenny Powers swearing at Ewoks would be pretty much the greatest thing since the invention of fire, so we're keeping a sliver of hope alive that he means all that literally. [MTV]