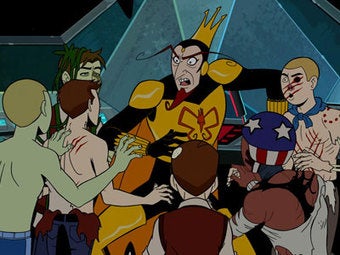 At NYCC, Venture Bros.' Jackson Publick and Doc Hammer regaled hundreds at the Friday night panel. But the real action was in Saturday's press room, where the writers of TV's funniest show fired off quips like some quip-firing machine gun.
Here were the pertinent spoilers from Friday night's panel:
— Molotov and Hunter Gathers will be back for more, and the guys seemed to suggest there will be two more moppets, though that may have been them fucking with us. They suggested the relationship with Brock and Gathers will be tested, and it somehow involves someone getting an extra hand.
— Jackson was afraid the last episode was a shark jumper, and he and Doc had bet $5 that the NYCC audiences would hate or love it. Doc won, as the audience seemed to really like last week's noirishness.