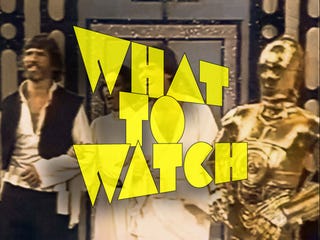 This week's Fringe may be the funniest yet, judging from a preview clip. There's a new Avengers cartoon, plus a new live-action Scooby Doo movie. Plus we examine the ratings for The Event, Supernatural, Caprica, Chuck and No Ordinary Family.
For this week's TV column, since we're about a month into the fall season, we're doing something slightly different. In addition to including all of the usual TV listings, we're also taking the temperature of some of the biggest genre shows on TV right now, to see how they're holding up so far this year. Which shows are thriving and which are imploding? Find out below!
Today:
Scooby Doo - Mystery Inc. at 7 PM on Cartoon Network, "Mystery of the Secret Serum," followed by a new Johnny Test at 7:30 PM, "Johnny's Got A Wart!"
There's a new Chuck on NBC at 8 PM, in which "Morgan starts a forbidden romance." Which sounds very, very promising, especially if it leads to apopleptic Adam Baldwin.
Ratings watch: The show's most recent episode got about 5.36 million viewers, almost as bad as the tail end of season three — which means maybe you shouldn't necessarily count on too much more Chuck.

There's also a new House on Fox at 8 PM.
At 8 PM, there's the second season premiere of Adventure Time, barely a few weeks after the first season ended, on Cartoon Network. There's also a new Regular Show at 8:15, Mad at 8:30 PM, and then Total Drama World Tour at 9 PM.
And then there's a new episode of The Event at 9 PM on NBC, in which Collier discovers Vicky's secret life. Which sounds promising.
Ratings watch: The show's ratings are in a pretty serious slide, down to about 7.76 million last week. But if it stabilizes in the next few weeks, the show could still get a full season. Here are an amazing six sneak peeks:

Movies:
HBO has Land of the Lost at 4:45, followed by Men In Black II at 6:30 PM. Encore has Field Of Dreams at 6:10 PM, followed by Groundhog Day at 8 PM. The Incredibles is on Disney at 8 PM. Shadow of the Vampire is on IFC at 9 PM. At 5 AM Tuesday morning, IFC is showing William Shatner's classic Kingdom Of The Spiders, for some amazing Shatnerian spider-dancing.