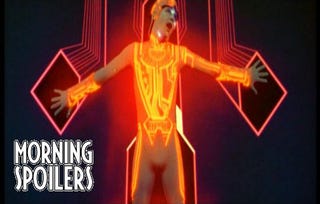 Like Angelina Jolie before her, Natalie Portman passes on Cuaron's astronaut epic...but another star's in the running. Vincenzo Natali knows how he wants to depict Neuromancer's cyberspace. Idris Elba's taking on another Marvel role. Wallace Shawn joins Eureka. Spoilers alive!

Gravity:
The long search for the female lead of Alfonso Cuaron's space epic continues, as Natalie Portman has reportedly turned down the role due to scheduling conflicts. Warner Bros. is now reportedly in negotiations with Sandra Bullock, one of the few actress left with similar star power to first choices Angelina Jolie and Portman. Indeed, Bullock is probably the last hope for the project, if the rumors are true regarding the studio's concerns about the film's special effects budget and limited box office draw. [Deadline and Variety]
Neuromancer:
Splice director Vincenzo Natali says he just finished his first draft of his adaptation of William Gibson's novel, and he says he's optimistic the success of Inception will make studio heads more confident the film can actually be made. He explained how he wants to depict cyberspace:
The cyberspace element of it would be a completely abstract universe. So it will be the opposite of The Matrix. Except for some very discreet scenes we are not in a world that looks like our own. It's the opposite. In fact, that serves the whole point, that the main character, Case, is what they call a Console Jockey, kind of a hacker, who in a sense, downloads his consciousness into this digital universe, and that's where he's happiest. That's what makes the book so resonant and fascinating and timeless in a sense, in that Case is really enamoured with the immaterial world. He hates what he calls the Meat, his own flesh, his own body, and in the real universe, the last thing he'd want to do is go into a perfect duplicated version of the real world. All he wants to do is escape from our world.

He enters what was coined the 'Matrix' but what was actually blatantly lifted by the Wachowski Brothers — so I'm calling it something else — but essentially he goes into this other alternative universe which a kind of platonic universe, where everything is pure and clean and beautiful. So that would be very much a digital construct in the film.
There's even more over at Bleeding Cool.
Batman 3:
A general listing of Hollywood casting information says the movie starts shooting next April in New Orleans. This offers a little more evidence the movie won't be shot in Chicago this time around (at least, not entirely), although the site does point out their information isn't definitive. [Backstage; thanks to Andi Wettleson for the tip!]
Harry Potter and the Deathly Hallows:
Here are some awesome new character posters: [CinemaBlend]

Mad Max - Fury Road:
Australian freestyle swimming champion and Paralympic athlete Annabelle Williams has been cast as Charlize Theron's stunt double. She says she looks pretty much nothing like Charlize Theron, but she has one crucial qualification - like Theron's character, she is missing part of her left arm below the elbow. She says she will double for Theron in a fight scene so that the filmmakers don't have to digitally remove Theron's arm later on. [ABC]
Noel Clarke, who kinda shockingly developed into one of Doctor Who's better companions, was rumored to be taking a role in this, but he has since gone on Twitter and denied it. [BleedingCool]
Ghost Rider 2:
Idris Elba might be taking on yet another role in the world of Marvel movies, although this one will be in the 20th Century Fox alternate universe, so it has nothing to do with either Heimdall in Thor or the Luke Cage rumors. Here he would reportedly star alongside Nicolas Cage's Johnny Blaze and Ciaran Hinds's Satan as "an alcoholic warrior monk tasked with finding Ghost Rider." There is nothing about that sentence I don't like. Also, an actor from CSI: Miami - and no, not David Caruso, because the universe might just collapse from sheer awesome ridiculousness if he came on board - is reportedly joining the film. Johnny Whitworth will reportedly play a criminal that Satan first recruits for his evil purposes and then turns him into a horrific creature. [Heat Vision]
Oz the Great and Powerful:
We mentioned this way back in June, but now it's more or less official - Sam Raimi has reportedly made a firm commitment to direct this preqel to The Wizard of Oz, and this should greatly increase the chance that Robert Downey, Jr. also signs on to play the young charlatan who becomes the wizard. [Deadline]